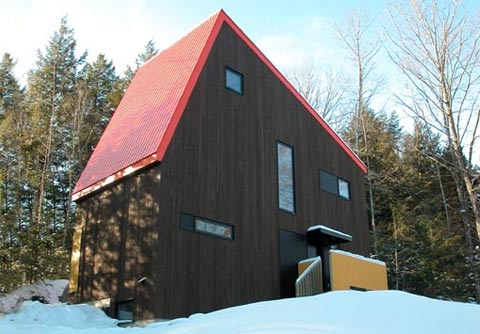 In the middle of a vertical rhythm of tree trunks, an orange metal line draws a roof. Located near the Mount-Orford, Quebec, Residence Eastman surprises for its unusual volume shape. By the look of it, it is clear that the architects' notion of the ideal house is fundamentally different from conventional ideas.
Common spaces and private rooms are organized vertically around the principal staircase. This three floor volume takes advantage from the inclined ceiling to create intense atmospheres inside the rooms. A small office is placed over the main bedroom, at the highest level of the house. A small wood stair is the only access to this poetic balcony…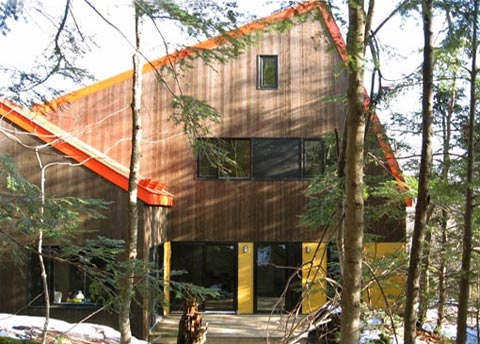 Interior surfaces are mainly white in the bedrooms. Green was the chosen color for the main staircase walls, while yellow gives a warmer mood to the social spaces brought also to the outside terrace, by using yellow cement panels only on the ground floor level.
Bright white ceilings contrast with the wooden floor, maybe reminding the outside scenery: blue sky and dark tree trunks. After all, the astonishing orange metal roof works as a "hat" for a wood dyed body, suiting like a glove on the surrounding forest.
On the upper levels, dark reflecting windows create an anthropomorphic effect over the wooden facades. Inhabitants can enjoy the landscape through specific frames. On the ground floor, large sliding windows invite us to simply rest under the tree's shade…