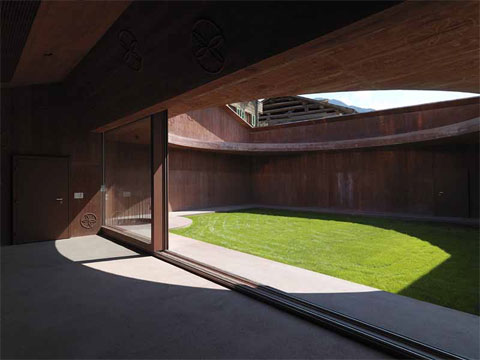 An old barn provides a place for music creation. Is there something more poetic and inspirational than that? Atelier Bardill by Valerio Olgiati occupies the site of a former barn in the protected historical villagescape of Scharans, Switzerland.
Built on a land´s plot at the old center of the Swiss village, the form of a small volume (only 240 sq. m.) engages in dialogue with pre-existing construction, sheltering a studio for a musician in a single space that opens onto a large courtyard.
This living space has a rusty fireplace positioned on the opposite facade towards the green patio, a small bathroom and a little kitchen kit as well, both hidden behind doors. There´s also a basement space for storage and parking with a staircase access to the courtyard.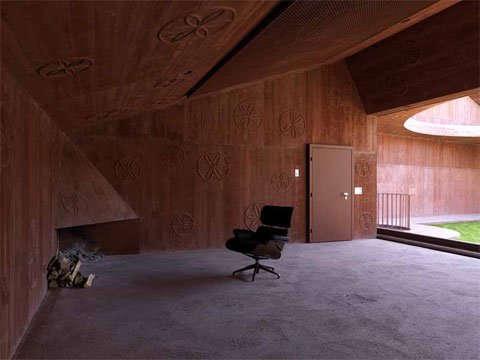 A gigantic elliptical opening in the patio's roof gives the inhabitants a generous and inspirational glimpse of the sky. However, it's the unexpected monumentality and clearness of this small volume that transforms poetry into reality.
We're talking about a minimum use of construction materials and techniques to achieve beauty! There is no facing, no cladding, and no over painting. Red rusty concrete assumes the main role here. Only doors, windows and roof escape this key rule. As if not enough surprising, the magical red concrete wall also features delicate rosette-shaped reliefs, inspired by ornamental motifs used in the surrounding traditional houses. Isn't this the most perfect place to start composing a beautiful melody?