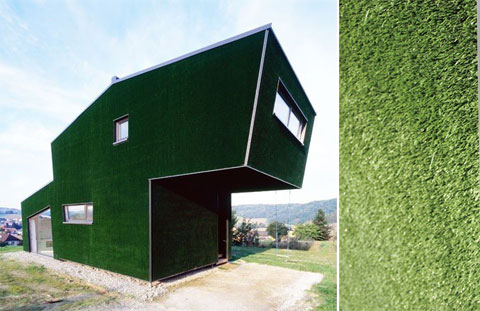 Located in Austria, Amalia House is 733 sq. ft. large and serves as a holiday home. It's sweet that the house is named after the owner's grandmother and it seems to have its own symbolic meaning, since the house gathers the family members from all over the country.
There are two bedrooms on the first floor and a sleeping place available in the living room. The ground floor is a rather narrow but long room, which is functionally divided into the living room and the space of kitchen and eating by the floor level difference of three steps. This level difference not only helps to psychologically segregate an open plan space of the ground floor but also repeats the natural line of a slope the building is situated on.
The same logic is applied to the form of the ground floor openings: curious and spontaneous at first sight – this form is still not accidental: it repeats the line of the slope and add up to the natural feeling of being as one with the surrounding landscape while you're inside the house.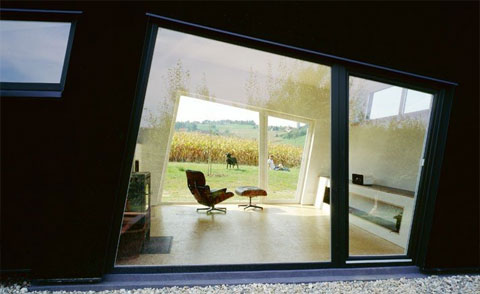 The body of the house consists visually of two blocks put twistedly on top of each other. I find this spatial composition ingenious in its simplicity and dynamics.
As you see yourself, everything plays well together in this building and leaves a very harmonious impression. The form of the openings, the silhouette of the structure, the inclines of the volumes, the way the inner space is unfolded – all these features serve one goal of design oneness.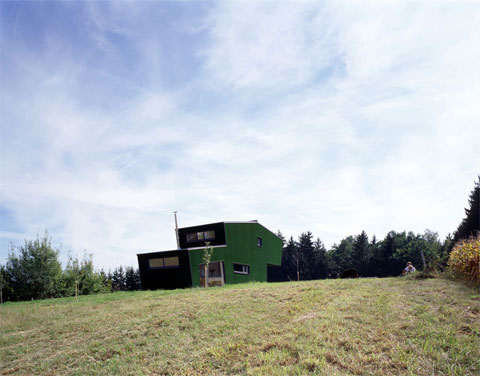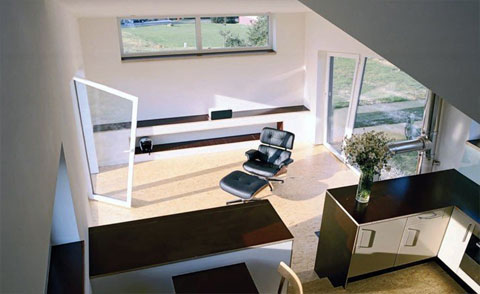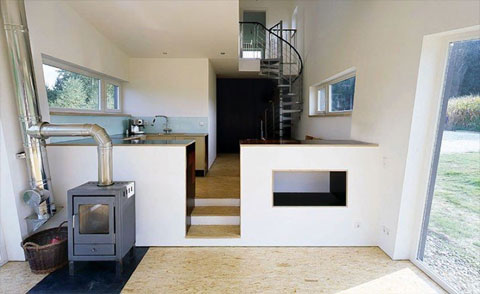 The final touch, as the logic culmination of the creators' idea and philosophy, is the material applied to the outer surfaces of the house. This is artificial grass. The whole building is covered with it.
Some people might say this is not ecological (and not logical as well), but I find the idea brilliant for several reasons. First, it is a fresh and funny idea by itself! This is just too cool! And secondly, I stand for eco features and for logic, but I pay attention to the artistic values of an object first of all, and here, the material – with its special structure and color – couldn't fit any better.