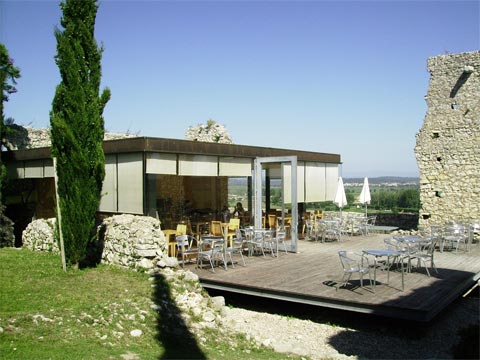 Do you believe in fairy tales? Let me tell you one. Inside Montemor-o-Velho Castle in Portugal, we find a contemporary building that´s reoccupying the medieval Princesses Palace…of which little is known and almost nothing is left, except for the ruins of the ancient walls that seemingly bounded somewhere in the past. Now the memory remains suspended in the present, in the intimacy of the Tea House.
The ruined stone walls welcome the Tea House: two different eras merge in the closeness of a single place. Without touching either the stone walls or the floor, this small ethereal building has a total space of 52 sq. m. with an additional 40 sq. m. of covered deck. It floats among the ruins, occupying the more fragmented spaces left by the absent walls while extending to the southwest into an esplanade.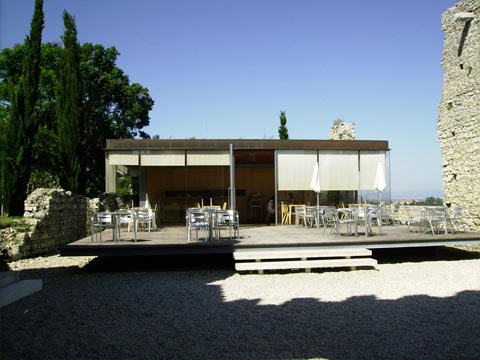 Two horizontal planes and four metal pillars sustain the Tea House's immaterialism: a light glass box. The tea room is only delimited by glass walls offering a magnificent transparency over the ruins. Only a wooden body remains inside this glass box, for kitchen and toilets facilities. The ceiling is made of bubinga plywood. Also the floor is made of the same solid wood extending to the outside becoming a deck.
This eloquent piece of architecture, by Joao Mendes Ribeiro, emerges as homage to the surviving fragments of history, creating a place from which contemplation of the ruins is achieved with just the essential, where modern and old architecture will be living happily ever after…