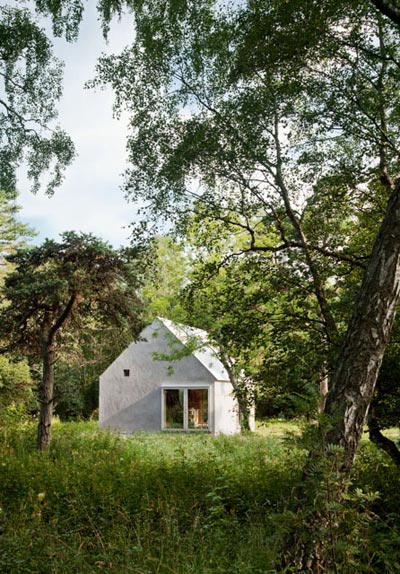 A cute summer house (689 sq. ft.) or rather summer barn stands happily in a lavishly green scenery on Gotland Island, Sweden. Indeed, the house looks literally happy and I can't help thinking of the sweet summer holidays a child could spend there (although washing facilities are outside the house…).
Take a 45° roof and a rectangular lay-out and you have a house. So did the architects of the Hamra house. They added only a few interesting technical, artistic, constructional and planning details and the result, as we see, is brilliant!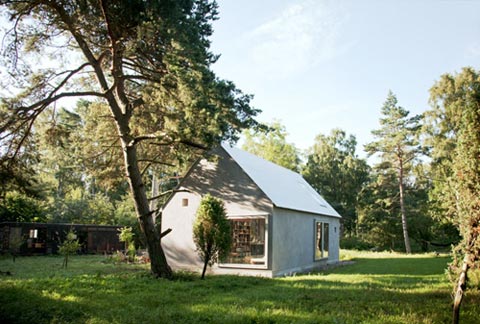 The entire space of this small holiday home is an open plan room, with two "boxes" for sleeping – almost bedrooms. Two playground areas for children are located at the top of these "boxes". Each playground has a large roof window, so that children can enjoy a bright sunny space to play in.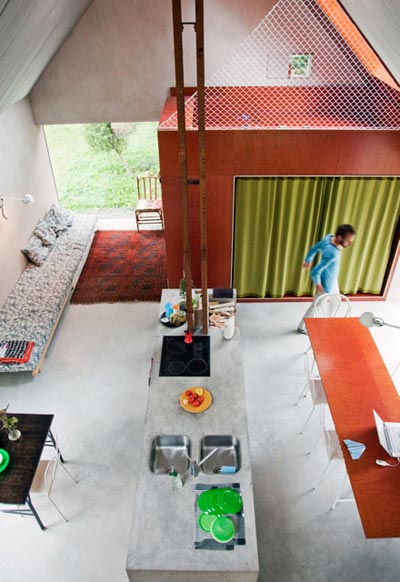 The kitchen working area is situated in the middle of the house; two metal pillars, unpolished and rusty, that pierce through this working strip, maintain the roof structure and form a special design accent of the inner space.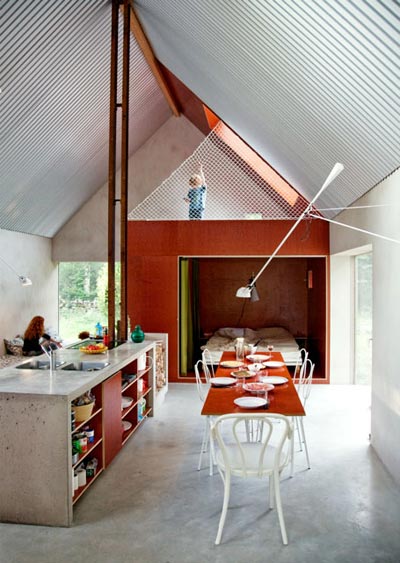 Another interesting detail which adds up to the "happiness" of the house is a cunning window construction. The window sash is put outside of the wall, behind the edge of the opening. So windows are like stuck to the wall from the outside. This brings an effect of not seeing the sash from the inside, providing a clean look that feels exciting and modern.
Apart from white finish of the walls, the reddish plywood is applied in the inner space. Its warm color makes the space cozy, bright, joyful, and well… – happy!