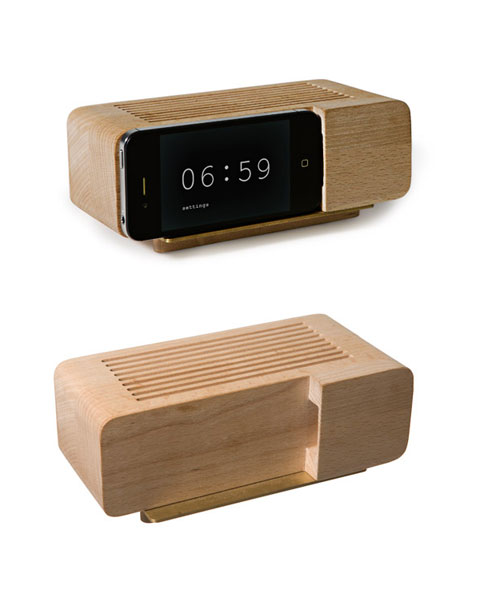 When a design object manages to combine modernism with nostalgia , it has certainly caught my attention. When it does so adding a pinch of delicate humor, while thriving with its excellent sleek lines, then I'm totally taken.
I don't know about you, but I do love me a classical looking clock by my bedside, whether on the nightstand, or simply on a pile of magazines.
I was positively surprised to see this Alarm Dock, which in fact is nothing less but oh so much more than a simple way of using your iPhone or iPad as an alarm!
While your smart device is getting recharged, it gets adjusted on the Alarm Dock and the two of them soon look like one piece meant to be together forever. Simply run a flip clock application and your newly invented nostalgic clock is ready.
I do so love the clever irony that is hiding or actually is getting reinforced by this inventive design. Modern electronics tend to be slimmer and slimmer with their profiles almost disappearing. However I am a fun myself of this elegant trend, I often long for some objects of the past decades when devices had actually, well: three dimensions.
Both my needs couldn't have been met better than in Alarm Dock. Measuring 6.75 x 3.5 x 2.5 inches and made from sustainably harvested new growth beech wood, it is available in white, black and natural wood. I love them all but the wooden one definitely is my personal winner.
Hello awesome wooden Alarm dock. Welcome to my bedside. Waking up will have never felt so good before!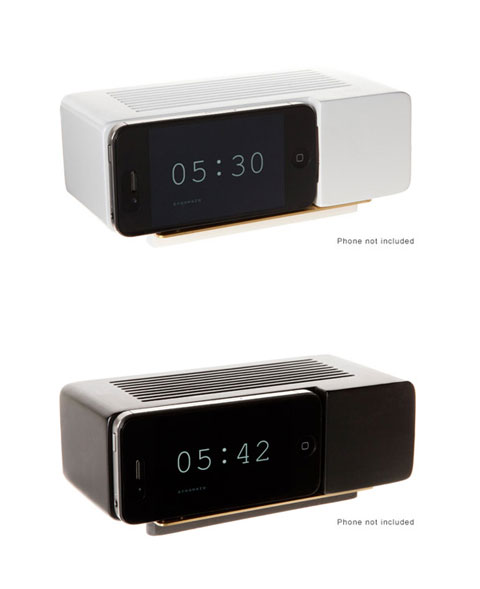 Buy This Item