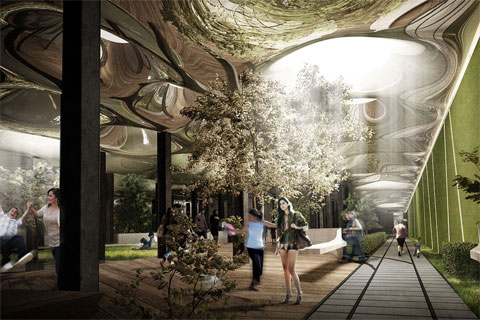 In my opinion the attitude towards public spaces has already changed and is constantly changing. Nowadays, public areas are looked upon as places with a special level of the quality of surrounding. The surrounding (I would even say – the interior) of every single public space has to interact with people and be friendly, while presenting various possibilities for people, of different demographic groups and different social background, to socially connect with one another.
There is a huge demand in society for such high quality public spaces. On the other hand, the attitude towards the city space as an integral unit has become more conscious. The revitalization projects of different abandoned places are being run in different cities all over the world at the moment.
Some of them, just like the Delancey Underground Project, deal with an underground space. The Delancey Underground is a former depot for streetcars, opened in 1903. It has never been in use after 1948, but as it has turned out now, the underground space is still worth giving it a second – public– life.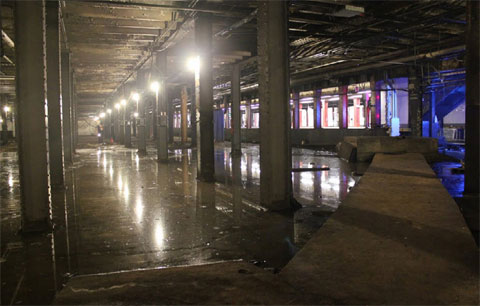 The Delancey Underground project has a nickname: LowLine. The following Low Line Project images show what the Delancey Underground space would look like after the possible implementation of the project. By the way, the project initiators were inspired by the High Line project– an existing example of a modern public space.
According to these project views, water, light and plants are introduced into the space in abundance. This should make you forget you are underground, and thus your personal interaction with the space should create new and interesting points of view. So if I had to vote for or against this particular project, I would definitely go for "yes".
Speaking about the light, an interesting technique is offered here to collect light from above and "send" it to the underground space…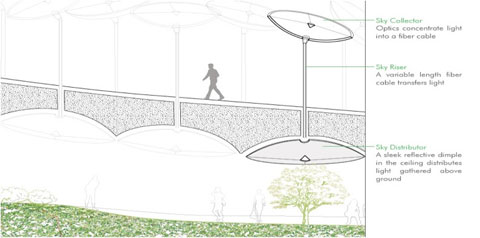 In cooperation, with the highly luminous surface of the space's vaults, there should be pretty much light in here (or at least the penetration and the effects of light would definitely be exciting).
I've also read, that local people (residents, community leaders, businessmen) show great enthusiasm for the LowLine project's and are already considering what functions (which could be numerous and various, indeed) could the new underground space host. Well, good luck! We hope to post an article about the implemented LowLine Project in the near future.