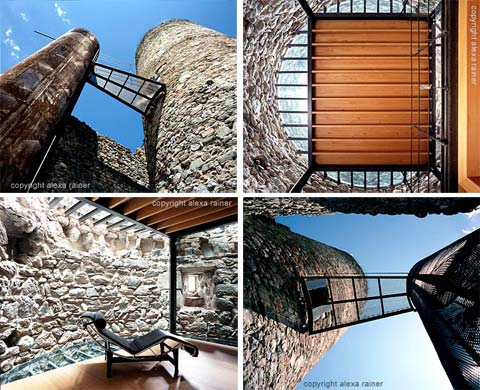 Living in a medieval castle with all the modern comfort… Isn't that truly amazing? the Reinchenberg Castle can surprise anyone with its magical atmosphere.
A solitary tower in Tubre, Italy, testifies the only remains of Reinchenberg Castle dating from 1150. Restored in 1998 as a holiday home, this 2 meter thick wall tower (with 84 sq.m.) has a 7-floor metallic cylinder inside its empty body. From the ground to the rooftop, every floor has its own function and follows the next ascendant order: storage, toilet, entrance, dining room, library, bedroom and solarium.
A metallic staircase provides the access to this vertical house, 7.5 meters from the ground, inside a cylindrical tower that´s placed 4 meters aside the medieval tower. A rusty metallic bridge establishes connection between these two vertical elements on the third floor. It's also a special relation between two different eras, involving a heavy stone construction and a lighter metallic structure, assembled together into a single complex.
Taking advantage from the existing windows, all floors follow the best way to enhance these tiny light entrances. The common areas (hall and dining room) are double-height; there´s also a little balcony attached to an existing large window on the fourth floor, to contemplate the surrounding green mountains.
The modern cylinder works like a glass box that never touches the existing stone wall. All its interior surfaces are made out of wood and glass. An open metallic staircase between the stone walls and the metallic cylinder allows the rooftop skylight to reach into deeper floors. This special detail turns the interior atmosphere of this medieval tower into something almost angelical!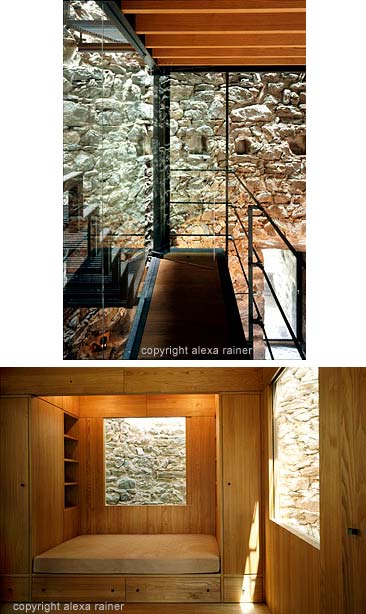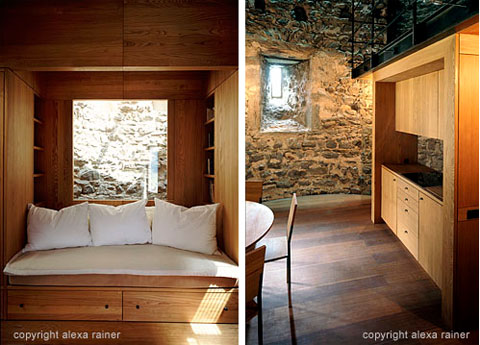 Photography: Alexa Rainer.