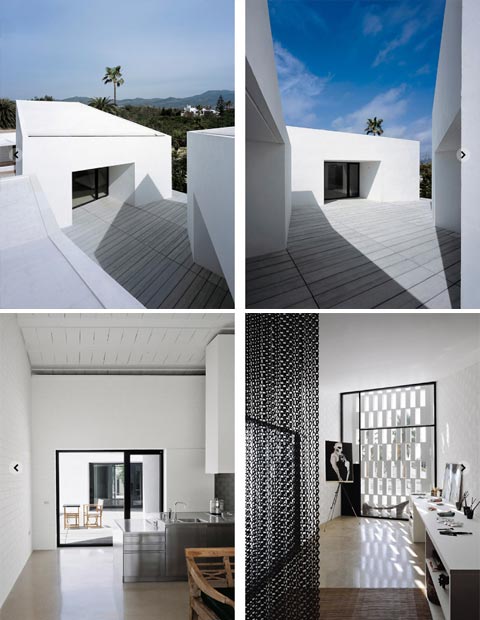 There´s a sculptural white house facing the Mediterranean Sea in Tarragona, Spain… Inspired by a Picasso's cubist painting, Carlos Ferrater created a magical architectonic composition that matches the wild coastal landscape with abstract fluid forms!
A weekend home for a photographer is placed in a 250 meters long by 18 meters wide plot perpendicular to the sea. The construction is set far back from the water and because of periodic flooding it stands on a platform 60 cm above the ground. The remaining space is full of low palm trees creating the most perfect symbiosis between nature and architecture!
But where's Picasso's influence after all? Let me show you…Three fragmented volumes (invoking cubist forms and geometries!) correspond, respectively, to a living-dining-kitchen area, a master bedroom and an artist's studio with a sleeping alcove for guests.
This weekend house has a total floor area of 93 sq. m. Yet the highest ceiling reaches up to 5 meters!
A central outdoor living space functions as the hall of the house, giving access to the three pavilions. Their shape and position direct the views between them, as well as the circulation from the front of the house.
Vernacular construction methods were used to achieve balance with the local context: crisp stucco finishes of the masonry exteriors enhances purely formal qualities. Interior walls and ceilings are painted white revealing a patterned texture of low-fired hollow brick. The exterior platform's planks are made out of board-formed precast concrete to resist moisture. At the end of this trip an exterior stair (placed at the back of the studio pavilion) invites us to rest and enjoy the spectacular view on the solarium's roof…