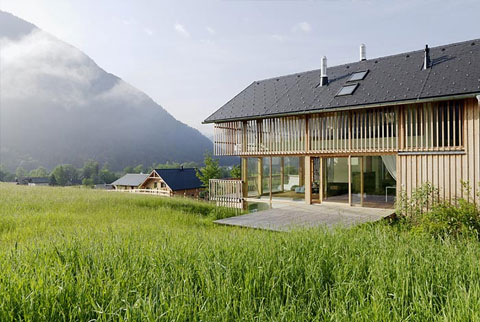 A fresh interpretation of the traditional Austrian mountain home? Some of you might say, what for – they are so beautiful as they are, looking so harmonious and sweet at the background of mountain views and don't need any modern interpretations. Nevertheless, let me introduce you to Haus M – an 1,690 sq. ft. Austrian stylization project in Bad Aussee, stylized after the traditional Alpine house.
What was taken from the architectural tradition and what has given the house that very desirable and recognizable silhouette and outer atmosphere of Austrian mountain houses is the form: a two storied building with a double-pitched roof and indicative balconies at the gable elevations.
What is made differently and what reveals the modernity of the building are modern exterior solutions and the manner materials were applied.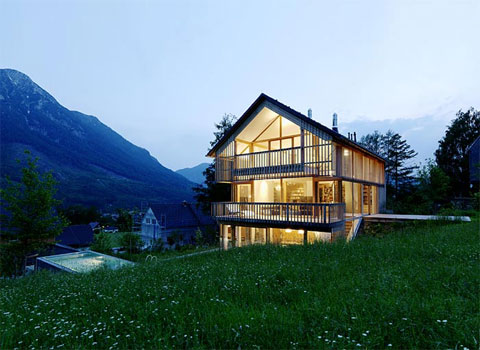 Although wood is generously used here, it mostly serves to cover the generous glass facades. The thin wooden boards camouflage the vast window walls and create balcony railings, and if you look a bit closer you could see that it is almost see-through, because so many walls are of glass. I admire the delicate way in which wood and glass play here in the exterior as well as interior design.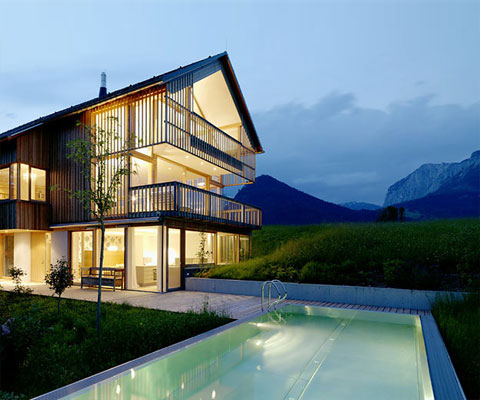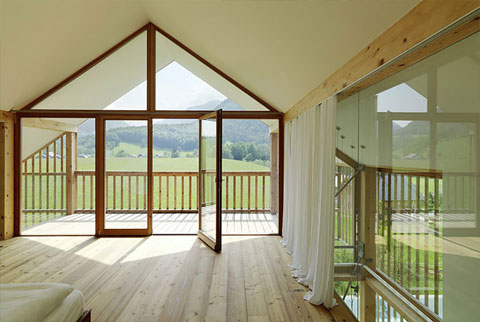 The structure takes advantage of the slope it sits on by expanding itself via a terrace towards the hill, blending indoor and outdoor spaces.the inside and the outside of its space. Looking from all possible points of views, this house belongs to what I call true architecture. It is human-scaled, interesting and extremely appealing. It is a fine example of successful architectural stylization.