Leis is a small Swiss village where tradition can definitely serve as inspiration to modern architecture! The Leis House stands as an undeniable manifest of making fine contemporary architecture. This building testifies the rare ability of perfectly integrating old and new, without damaging any of them in their relation. I'm talking about a wooden house built in the traditional regional style…
The walls are composed of 6'' x 4'' pine boards that are assembled in some kind of frame free (in a tongue and groove system). What an amazing thing to do…pure biological substance used as the principal building material.
Large plate glass windows in wooden boxes come out from the walls to create extra living space: some give access to a balcony while others are closed. In fact, the same program is duplicated in two floors in a cross-shaped plan distribution: living and dining room as well as kitchen and bedrooms are placed in the four corners, only separated by a closed room (toilet) positioned in the center of the cross. In the adjacent areas of this cross-shaped plan are the staircases, a studio room and also the service facilities.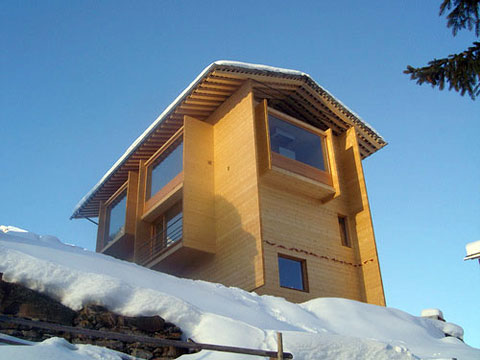 But tradition elements for innovation are not over yet! All the roofs of the region are obligated by law to use rough granite slabs for roof tiling. By pulling the frames together with steel rods, an empty space is created between the body of the house and the roof…eliminating the ancient (and usual) central beam and giving birth to a new way of turning tradition into innovation!