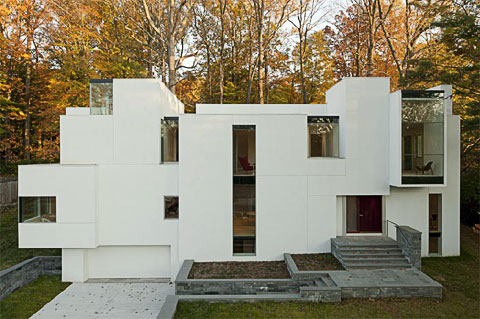 This house, which consists of different cube volumes put together in a random order, is nevertheless strikingly harmonious. No doubt, in order to create such a beautiful chaos the architects paid careful attention to every square centimeter, to every "spontaneously" pulled forward surface or playfully situated window opening.
But the surrounding helps, too: the structural dynamics of the house body is strengthened by the extremely advantageous plot located in Bethesda, Maryland. The building is located at the foot of a slight inclination, nestled among old, beautiful trees, opening up the views of its curious shape diversity.
Speaking of shape, the image of the house is said to be inspired by the natural formation of mineral rock salt. And in the very deed, nature creates beauty that is so perfect, that it seems to be artificial. Still, it is natural.. That is why we keep coming back to nature for inspiration, as in this project.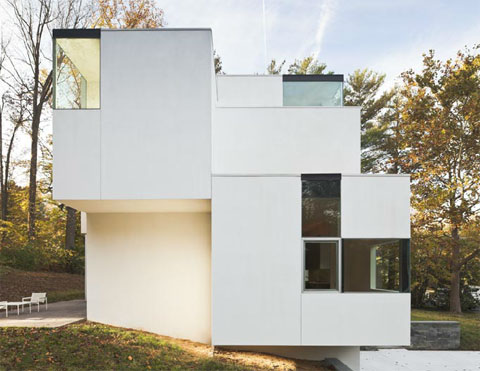 The mentioned above outer shape diversity of the building dictates the scheme of the layouts: at first sight the floor plans (total area 4,860 sq. ft.) appear to be somewhat destructive. But such an impression is, however, deceitful, because when we take a look at the interior design, we understand: yes, it is complicated, but it is gorgeous!
Indeed, this house is definitely not about simplicity – It is complicated – in its appearance, in its planning structure, in the difference of heights and levels. However this complexity is sophisticated and charming.