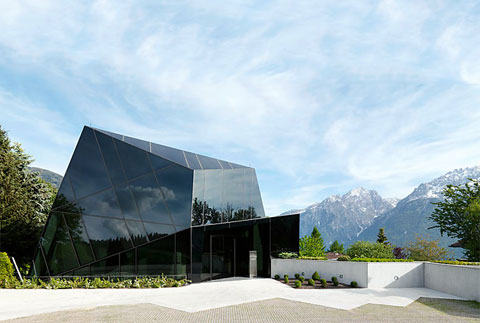 A building (no matter what its function is) can be designed to interact with its surrounding in many ways. Take for example the event center in Iselsberg, Austria – this project interacts by means of reflection.
The entire 6,458 sq. ft. building is covered with darkened mirror glass plates, which are cut in differently sized, rectangular shapes, so that the facade patterns look dynamic, but not too chaotic.
The building has a unique form, resembling a crystal; it doesn't have exterior defined roofs or walls and every facade surface has its own irregular form and incline. However, such a design makes the structure look very united; being not to big by its scale, the building is really perceived as a oneness – like a large crystal or stone.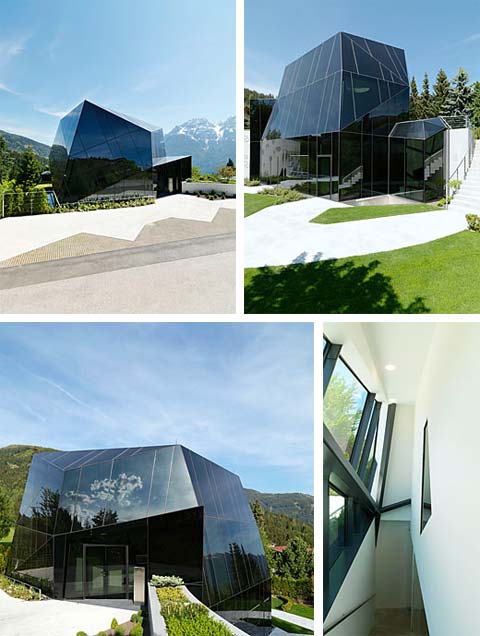 Whatever the time of day is or what the weather is like, the "crystal" reflects it all due to the mirror facades, being itself dissolved in the situation it reflects. What a sophisticated unity with the landscape! Could it be any better in such a marvelous mountain environment, at the background of such a breathtaking landscape?
Visiting a seminar in this center could become an outstanding experience, not only owing to the hopefully exciting lectures, but also to the opportunity of seeing this amazing piece of architecture and these inspiring natural surroundings and hearing the artistic melody they create together.