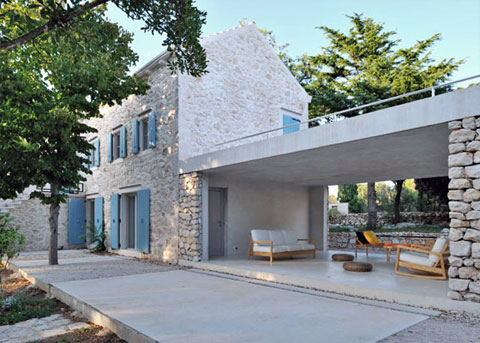 I always said that for me the ideal vacation includes sun, sea and.. cool architecture. Inspired by summer holiday mood, I'd like to introduce you to a marvelous 2,153 sq. ft. villa in Croatia. Its walls are built of large, local natural stone, wall surfaces being uncovered and revealing the beautiful stone masonry. To complete the look, all the openings are equipped with absolutely lovely, sky blue, wooden shutters…
The house basically consists of two volumes: one of them is a two-storied house in a traditional Southern design. The second volume is a one-level rectangular block, which interacts with the higher block in two ways: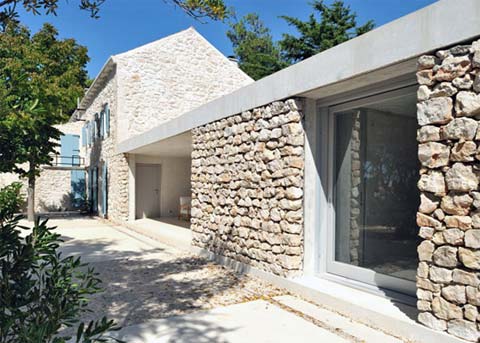 First, contrast – its form and style stand in contrast to the traditional body. Although this second part has also stone on its walls, it is definitely visible that the stone is simply cladded as a decoration onto the actual – perhaps concrete – wall. The other contrasts are vast, modern openings and a huge roof terrace.
Secondly, similarity – although the shapes and the way materials are used are different, the atmosphere and colors of both parts are similar in order to unite the two volumes, to soften the differences between them, and to create a harmonious place.
Thus, the ensemble of this building is made truly Southern: relaxing, soft, rich, comforting, but still interesting and definitely stylish. It's time for my holiday in the sun…