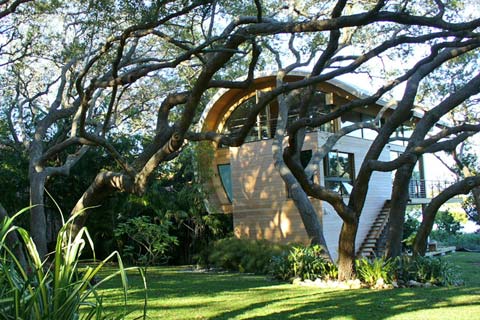 Nestled amidst an old oak tree grove on the bank of Florida's Sarasota Bay, the Casey Key Guest House is more than just a sweet little hut. I love the trees' appearance, dramatically leaning to the side due to the prevailing coastal western wind. No wonder, the architects decided that the design of the 1,600 sq. ft. guest house should reflect its natural surroundings, expressed in arched, semicircular wooden elements. The rest of the building is also made of timber wood, so that the desired natural look is perfectly achieved.
The inner planning scheme of the house is kept very simple – a living zone with a kitchenette, a bedroom, a bathroom and a loft. The generous terrace, however, rewards it and promises the guests long evenings in the open air, underneath these fascinating oak trees.
The interior space doesn't let you forget this is a luxurious guest house. Refined color combination, expensive material usage, masterful incorporation of the mentioned above arched structural elements throughout the interior – all this makes it more so much more than just a house for a nature-oriented weekend.