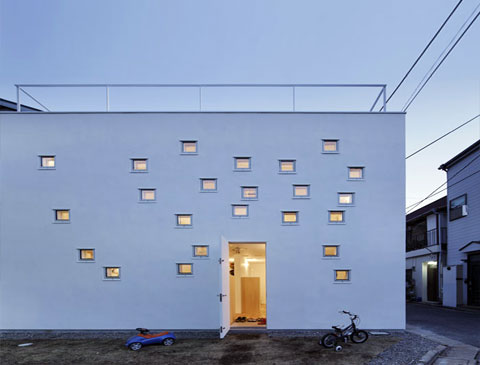 Architecture should always respect the needs and limitations of its inhabitants…In a way that living in the space becomes as natural as breathing… Room room reveals this belief so firmly that the result is both outstanding and peculiar.
In Tokyo, Japan, a tiny two-story house with only 36 sq. m. of building area was designed for a deaf couple and two children. The simplicity of the program follows this particular detail: full visual communication between parents and children at every corner of the house!
The building has two small rooms at the ground floor and a toilet placed below the staircase. One big room occupies the first floor where a ladder leads up to a skylight hatch to a terrace on the roof. So far, nothing escapes the description of a conventional small house…But the most incredible details are yet to come!
Remember the previous premise of full visual communication across this entire home? Well… the solution for it is simply astonishing! All walls, floors and roof are perforated by small openings (200mm squares) randomly disposed, creating a fluid pattern of light inside the house.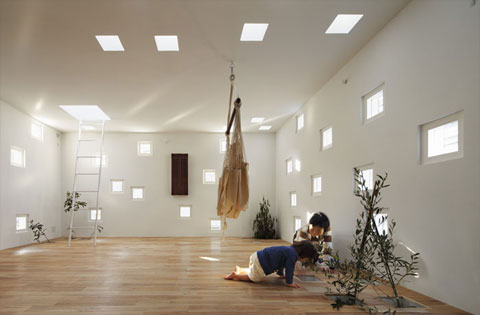 The openings on the floor are used as atriums, allowing family members to visually communicate between the ground and first floor. Sign language for the deaf parents and verbal language between the children. This house works like a big amplifier!
The openings on the white walls are useful for ventilation and natural light…Ceramic pots resting on wood surfaces in the ground floor hold tall plants which grow up through some of the ceiling openings to the open-plan first floor. I believe that Nature whispers softly to its fellow companions in this exquisite house of communication…