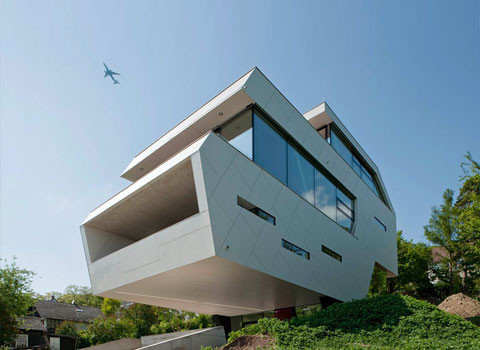 3, 2, 1…ready to take off! The modern family home that I'm about to show you is simply outstanding. Form, shape and volume are so unusual that this house appears as a sculpture suspended above green gardens!
In the western periphery of Vienna, Austria a slight and steep site gave birth to a five level building with 372 sq. m. of constructed area. So far, so good…But what really makes this house so peculiar and different from the others? The answer is quite simple: innovation and creativity!
A bunch of zigzag movements define the building's silhouette, whereas generous terraces extend from interior spaces, allowing unobstructed views of its surroundings. There's an organizational order in this artificial cascade of balconies. Entering the ground floor level, a wood clad floating stair within a white hall room leads to the upper floors. In the first floor, a bedroom and an office are divided with a white bookshelf sharing both the access to a private balcony.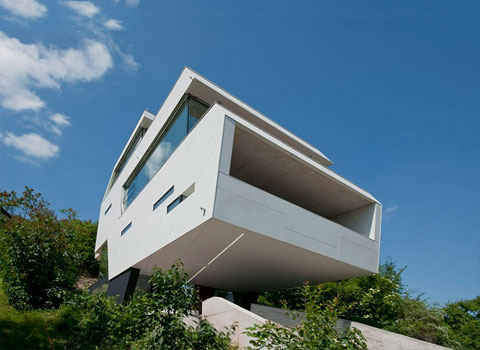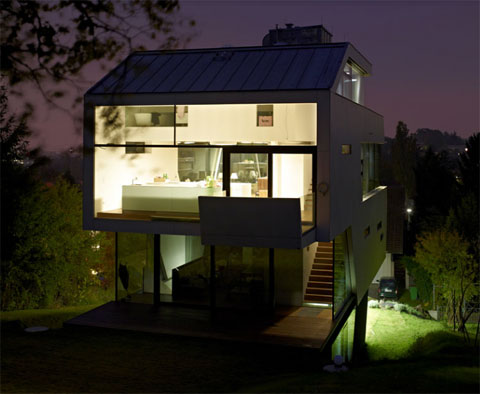 The following level is composed by a contemporary Bulthaup kitchen and the living room, separated by a two-way fireplace and a stair. Also a sliding window opens to an open-air balcony. Last, but not least, a master bedroom with closet and bathroom opens to the main terrace of the whole house…definitely the cherry on top of the cake!
Interior finishes have a balanced contrast: exposed concrete for ceilings, white painted stucco for walls and warm wood for pavements and stairs. With all this and more, the amazing cascade of balconies keeps messing with my head…