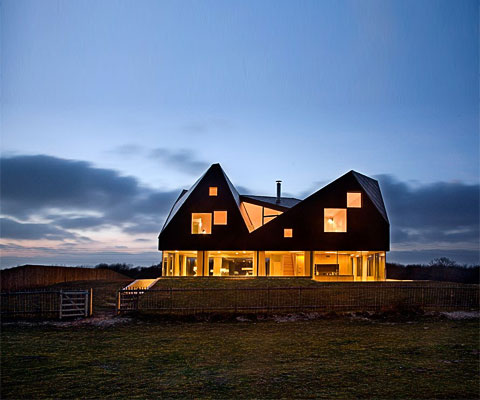 I have a question: Can a roof be extraordinary? The answer is YES, according to the wonderful Norwegian architects Jarmund /Vigsnaes – just look at this amazing holiday home in Thorpeness, England, and I'm sure you'll agree with me.
As you have already understood the overall concept of the interior and exterior design is governed by the extremely unorthodox roof form. And since this multi-pitched roof is designed as several separate roof-'peaks' and because the roof itself has a considerable height, the under-roof space is not perceived as a small attic space.
On the contrary, this under-roof story (with its big, steep, asymmetrical roof planes and weird structural composition; with square-shaped windows of different sizes and random locations) gives an impression of a generous living space.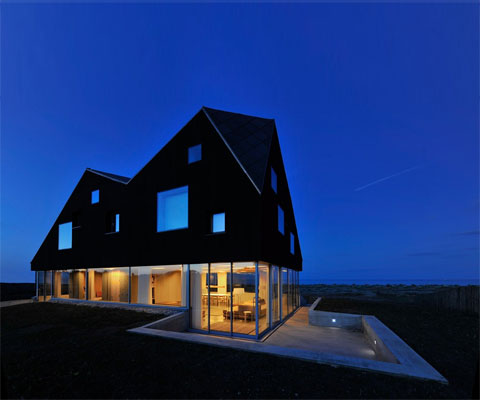 As if to deliberately contrast with the dark-woodenly cladded first floor, the walls of the ground floor are entirely made of glass. Such a solution not only lifts the exciting roof level above the ground, but also makes the functional difference between the ground floor (socializing/living/dining/kitchen) and the first floor (private spaces, bedrooms) clearly visible from the outside.
This 2,690 sq. ft. vacation house is positively weird and extraordinary in its shape! And I absolutely admire the interior space effects, which were created as a result of the unique roof shape and maintained by good interior design solutions.