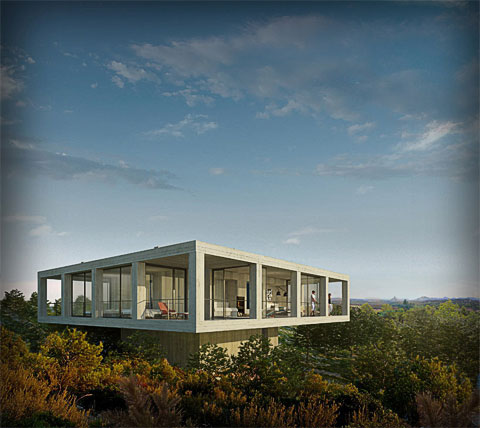 A concrete house that looks like a giant sunflower… the Solo House successfully shows how to turn sustainability into a major goal in architecture! In Cretas, Spain a 200 sq. m. summer house conquers all the attention: rising above the landscape, this "artificial sunflower" provides clear views over the surrounding forests…
Inhabitants access the house through a square concrete base containing two storage rooms, a spiral staircase to the first floor and the bottom of a pool (where two windows allow the passage of natural light, giving the sensation of walking around a giant aquarium!)
The first floor is simply marvelous in its spatial organization. After the staircase, an enclosed patio with the pool reveals to the visitor functioning as a hall…and what a hall! All the living spaces (two bedrooms with bathroom, open kitchen with dining room and a living room) are swept to the perimeter veranda which serves as a hybrid observation podium and balcony while the four corners remain open-air.
The facades respect the same module configuration giving unity to the whole volume. Also the use of wooden form-works in both interior and exterior surfaces reinforces the serenity that seems to be a crucial premise for this project.
And last, but not least, sustainability plays a prominent role in this modern architectural project! A photovoltaic solar system for electricity, a closed loop under-floor radiant heating, and also an onsite waste decanting with water storage. All creating a self supporting and energy efficient house… Who knows, maybe even more efficient than a sunflower?