Imagine there's a house in which technology and nature coexist with people to enable a 100% off-the-grid life. Now take a good look at Mirai Nihon – It's real, it's true and best of all, it's universal!
After the massive tsunami and earthquake that hit Japan on March 11th, 2011, TBWA\HAKUHODO created the concept for this amazing self-sustainable house that has applications for a large variety of needs: victims of natural disasters or simply for housing in any part of the world! A fruitful collaboration with 20 companies provided the new technologies that make 100% off the grid life possible!
I'm talking about no electricity, gas, water and telecommunications dependency. But, how does this wonder really work in practical terms?
A portable wooden structure, designed to be made out of local lumber, provides the body for this Eco-friendly building, giving it the chance of being built anywhere. However, without conventional power resources available, you're already thinking what kind of energy feeds this magical house… The answer is: a 100% electrical car!
Surprised? The Nissan Leaf isn't just a vehicle. It is also a home power generator for this unique off-the-grid home, supplying electricity sufficient to power a common family household for about two days.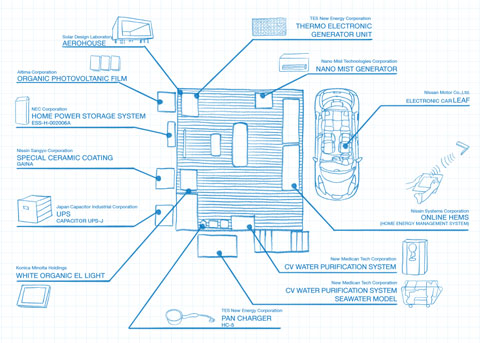 Solar power also plays an important role here: the solar cells are in film form, so that they can be laid out in a wide variety of locations and not just on the roof. And they operate even in snow.
For a better insulation, a special ceramic coating was developed keeping temperatures uniform inside the entire space. A water purification system can purify water from sources such as rain, sea or rivers! Even an online management of electricity can be done using a digital tablet… I firmly believe that future starts here and now!