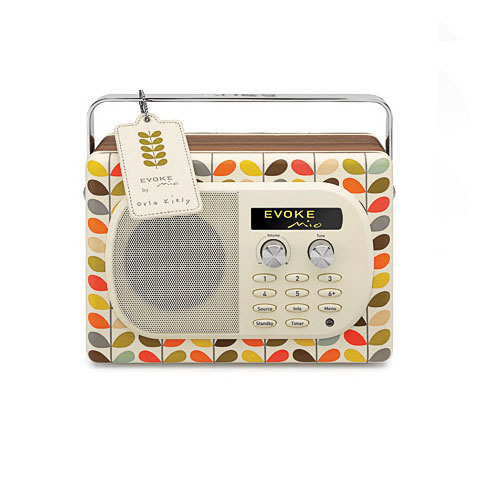 Orla Kiely most probably needs no introduction, neither does one of the most adorable portable radios ever, Evoke Mio, available in her line of home products.
Offering a choice between two of her famous patterns, also featured in her wallpaper series and other products, this darling of a radio can be dressed in two ways. In blue, with white flowers reminding of the Abacus flower wallpaper or dressed in its fancy and super happy, multi colored outfit, very well known as Kiely's trademark, the multi stem wallpaper.
Evoke Mio is both a digital and an FM radio, carefully designed and produced, featuring a mirror chromed folding handle, a walnut veneeret cabinet, a cream fascia, a leather effect front and rear panel and a leather tag on the multi colorway.
It can take up to 30 presets in radio mode and it may also be connected to an iPod and/ mp3 player. Interested in introducing new features? Easily, via USB. Wishing for a perfectly readable display with superior contrast? You have it, while its light sensor will adjust the display brightness to suit the amount of light in your room. Would you like to take it with you outdoors? It will gladly keep you company for up to 24 hours.
Moreover, are you a fun of cooking while listening to your favorite radio stations and/ or preferred music? Its dedicated kitchen timer button will be so helpful! Who can resist technology packed in such a delightful outfit? I absolutely cannot and I so love both designs!