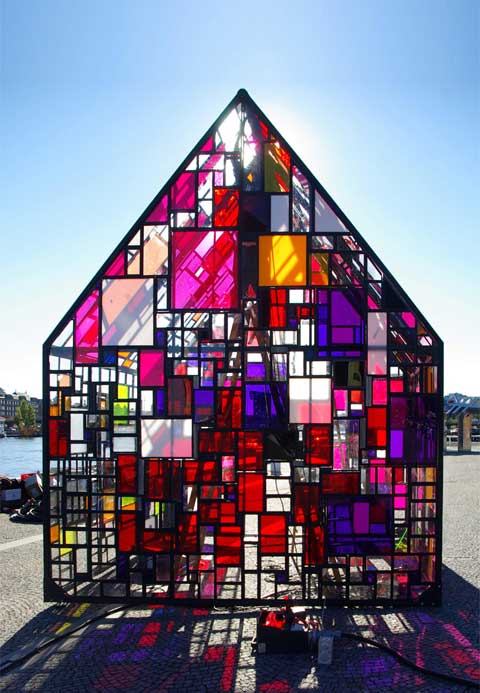 What various technological innovations do modern artists and architects invent to impress the audience, visually and emotionally! Whether it's unique light performances, large scale color-changing fountains, or interactive art installations – the list goes on and on.
The author of this project used colored glass and combined it with a schematic form of a house, and … invited sunlight – this eternal natural source of beauty, life and positivity – to help him impress and delight people.
This bright, translucent metal-glass structure stands in the middle of a square near the Royal Danish Library in Copenhagen and catches people's eye with magenta, yellow, lilac, blue and red radiance. It consists of numerous, hand-cut and hand-welded, differently sized steel frames, which hold separate colorful pieces of plexiglass.
During a sunny day, the object calls to mind the reminiscence of a huge Gothic stained-glass windows, but the simple silhouette of the structure and its availability (there is a pivot mounted door installed there) make you feel that this incarnation of beauty is – unlike sublime Gothic forms – really close, friendly and accessible.
During night time, technology is applied as lighting- and sound-installations accompany performances of local dance and theater groups.