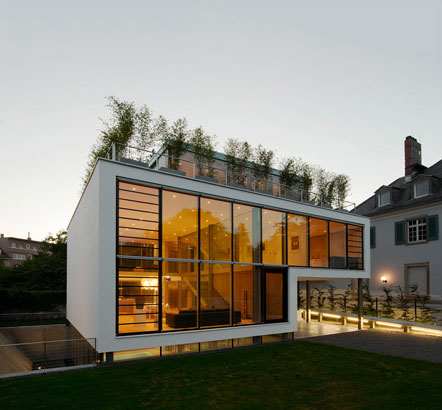 Some architects are more interested in surfaces and forms, others are more involved with interior spaces or with light. In Karlsruhe, Germany, a contemporary house shows how light can be crucial for experiencing an interior's ambiance. And to achieve this goal, a magnificent transparent facade facing the street welcomes us to enter into a world of light!
Once inside the site, a white volume with two floors offers different paths leading to the entrance door: a ramp at the beginning of the journey and a staircase below the covered parking space. But the approach to the house reveals how appearances can easily deceive us… The building is truly a four-story composition.
The ground floor has been raised one meter to allow natural light to enter the below grade swimming pool… Also a band of clerestory windows in addition to an open light well which parallels the entire length of the home is designed to obtain the perfect atmosphere.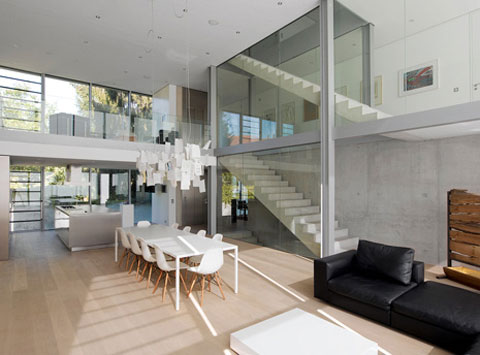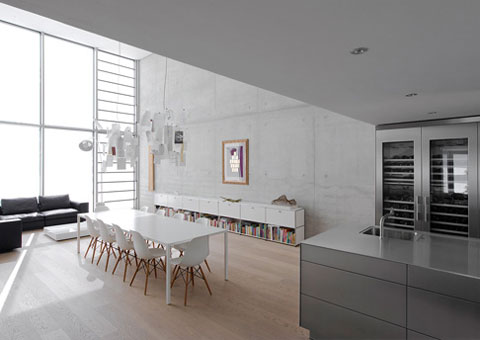 This house is a box full of surprises! Two open stairways in exposed concrete connect all four floors: the first leads to the guest room and living room while the second guides to the bedrooms and the vegetated roof terrace. If you're feeling tired, an elevator will lead you to the desired destination. Inside all is bright and white – walls and ceilings enhance this immaculate condition.
The transparent facade viewing the street can be closed with a system of exterior shades providing protection from the sun and much needed privacy. In this house, serenity gains a physical dimension…