I already wrote about a modern roof apartment in a 19th century Viennese building, mentioning how they love experimenting with historical roof reconstructions, adding stylish, daring volumes onto old Viennese houses. Personally I'm always fascinated with these beautiful new-meets-old stories, so I decided to share the next project with you as well.
This house is situated in Klostergasse, 19, Vienna, featuring a new luxurious 2-storied apartment on its renovated roof. It is a big corner building, so it's quite natural that the architects decided to make a higher spatial accent on the roof's corner. The roof's configuration above the house's wings is left almost untouched in its conventional form, whereas the roof's corner part is lifted up dramatically, forming a roof terrace, a 2-storied part of the apartment with a glass facade and a dominant, eye-catching roof line above it.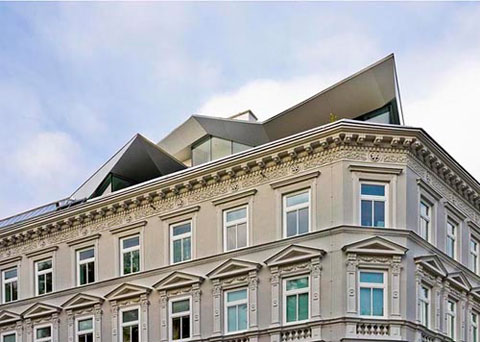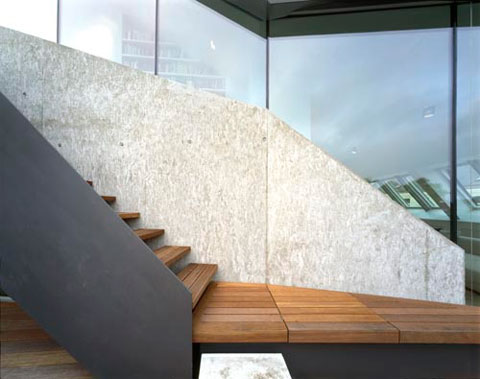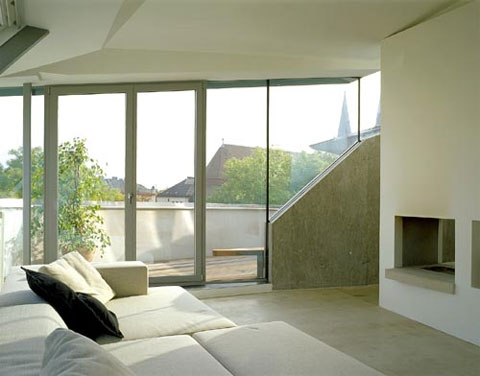 The roof terrace is not only a perfect place to enjoy Vienna's views; it also serves to set the higher, the more dramatic part of the roof volumes backwards, so that they don't visually argue with the refined old elevations.
The architects called this project "the roof-landscape" in their description text. It's difficult to find a better word for it. Indeed, this project is about creating a new piece of a cityscape while designing a modern roof apartment. And what a success it is!
What do you think? Feel free to express your ideas in our comments below.