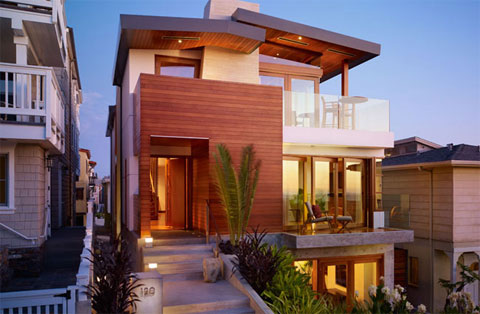 It's important that a house remains harmonious and not too overloaded with a certain style. Because even though we know the design was thoroughly elaborated, we feel that special air of non-aggressive, not too sterile harmony throughout the entire house.
Every element has a purpose, nothing is created for the sake of mere decoration. Everything has got its natural, logical function. The house lives and breathes! All this can be said about the 33rd Street Residence – a 4500 sq. ft. house, situated in a row of detached houses in Manhattan Beach, California.
This contemporary home stands out in comparison to traditional neighboring houses. The entrance zone is emphasized by the wooden cladded block, and from now on we see this reddish wooden accent throughout the house as a design theme.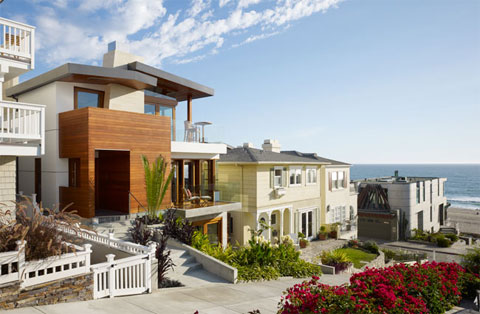 One might assume that due to the repeated wooden cladding, the atmosphere of this home is somewhat simple or rural. Yet, I was surprised to have found, that I had never seen a more refined implementation of wooden cladding, a more exquisite way of playing with wooden stripes both in the interior and exterior. Moreover, the house's spirit seems to be distinctively citified and urbanized. Applause to the designers!
One of my favorite points about this wooden keynote is the wooden cladded, striped ceilings. Combined with other wooden textured elements (stairs, curtain wall, floors, windows sashes, kitchen furniture, etc.) it looks perfectly stylish, not overloaded, light, harmonious and beautiful.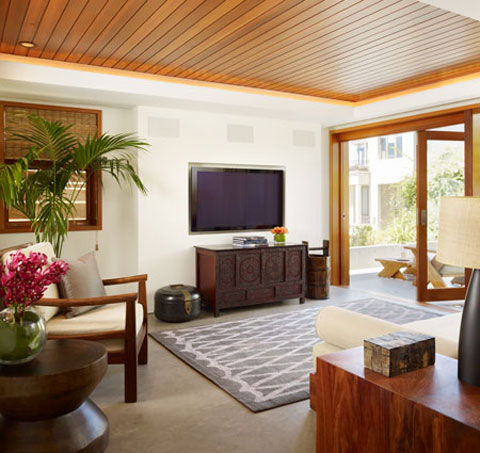 But let us come back to the outer appearance of the building. Apart from episodic application of wooden cladding, there are two other main features about the exterior of the house, which make it so outstanding.
First of all: the roof outline. Basically, the roof is double-pitched, but the roof planes are created as thick slabs, set apart from each other near the ridge. Together with the massive chimney, the roof creates a very special, recognizable sea-style silhouette.
Speaking of the sea, I have to mention that one can enjoy the sea view from the open terraces of the house, and this would probably be the final drop that will make you fall in love with the house, just like I did.