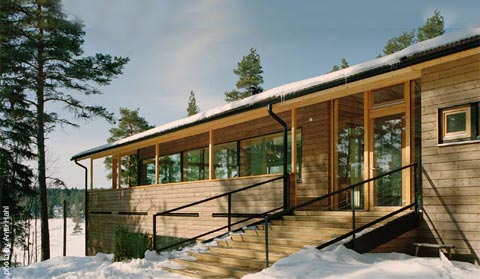 This experimental wooden home, curiously named Kekkapaa, is situated in North Espoo, Finland, under the shadow of tall pine trees. The house has a long rectangular shape, being almost see-through with its big window areas, applied to all elevations. It is a two-storied house for living and working, with a double pitch roof. What is so special here? You ask…
First of all, the architecture of this house is modern. Yes, I wouldn't call it extravagant, but it is still a modern building. And there is always something paradoxical and timelessly beautiful, when an up-to-date structure is located amidst old forest, don't you find? The natural captivation of trees and the human-made glamor of new materials of a building are emphasizing each other in a very special way.
Then, the big windows, mentioned above, make the house half-transparent: it seems to be a kind of a lodge-gate, which you have to cross on your way through the forest. All the more so as there are two entries to the house, just in front of each other. So this forest house is not only see-through, but literally walk-through!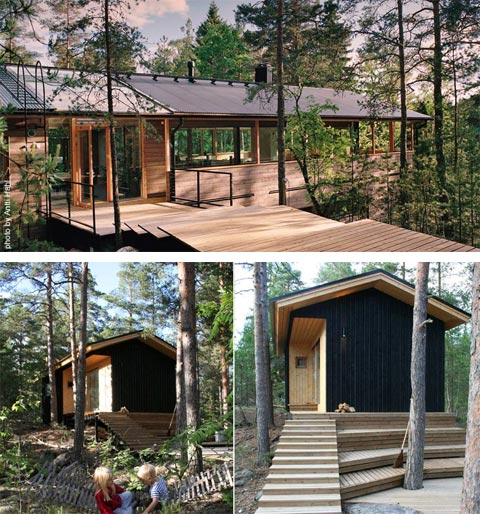 As we see, the outer design of the house is harmonious and well-balanced with its light wooden cladding, big windows and decked walkways. However, this building has its surprises. and this time I'm referring to the interior design.
Unlike the exterior, the inner space is urbanized: all main surfaces are ultra-modern, white and glossy; all the forms tend to be minimalistic; bright red accents (chairs, pillows); and the cool stairs could easily be imagined in a highly fashionable NY apartment.
The contrast between the interior and the exterior makes the house even more exciting and worth visiting. Moreover, being experimental, this house has a range of ecologically orientated instruments implemented in its structure (geothermal heating, smart ventilation, cellulose insulation, etc.), so the house would be interesting not only for design-lovers, but also for ''Eco-design"-lovers.