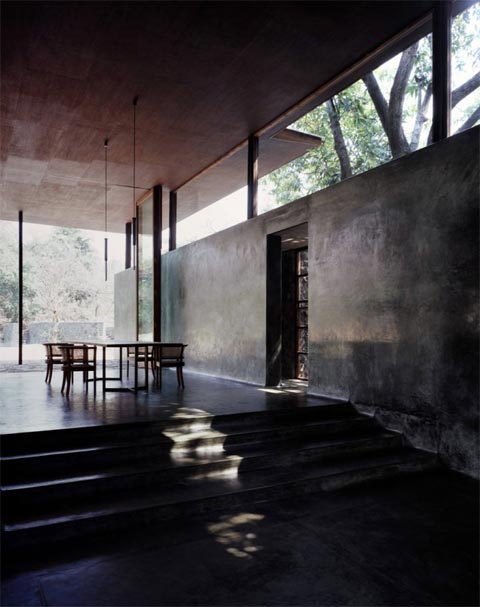 Can agriculture and architecture beat to the same rhythm and tone? In Belavali, India, a magnificent house teaches us how to conquer such rare conditions… Designed for a large family, the Belavali House is positioned in a luxurious rice plantation in the district of Alibag, a 40 minute boat journey from Mumbai city. Between forest and terraced rice fields, this building works as a pavilion, quietly absorbed by a beautiful panorama! How does it work? In a very natural way…
Once inside, an expansive staircase invites us to enter onto a large veranda straddled between the building. The long narrow structure framed in steel supports a single large roof that moves through a series of fruit trees, creating small patio spaces.
In this volume, social programs such as living, dining and kitchen, are distributed at different levels in a very close relation with the appellative exterior ambiance. Beside the private areas placed at the upper floor, two small autonomous buildings are situated apart from the main house. They provide additional living and sleeping spaces for the extended family and guests.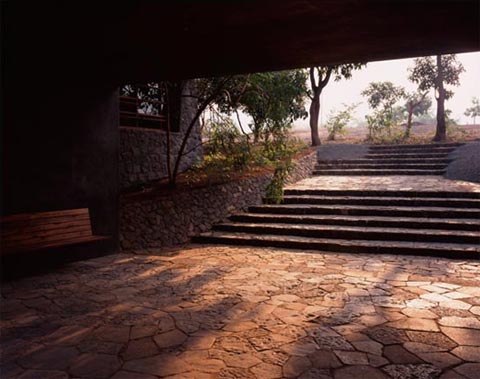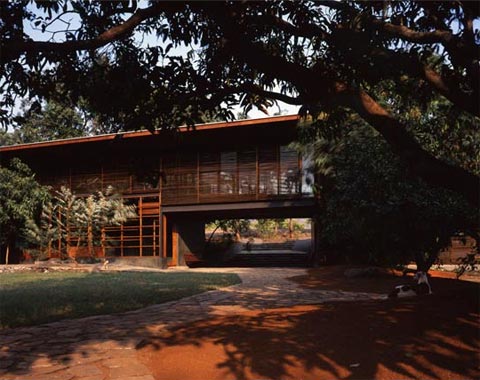 Walls and floor are covered in pigmented cement plaster while masonry walls, glass, wood and timber louvers form the outer skin of the house.
In fact, the stone retaining walls used for plantation terracing have been repaired as well as a system of trails paved with reclaimed stone that crosses the site! This brilliant gesture reveals its crucial role in achieving an integrated natural and built atmosphere, in the same way it has been done for generations…