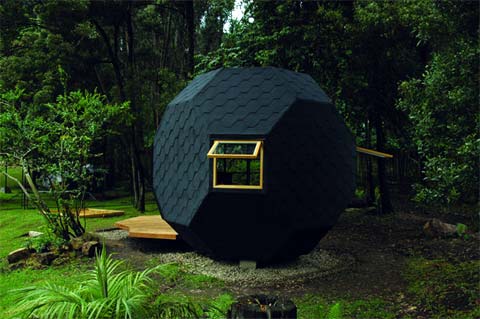 I have no garden, neither do I have children yet, but this playhouse, located in Bogota, Colombia, still extremely fascinates me! It's not a treehouse, nor a regular shed, this project is something absolutely revolutionary in playhouse design. The form of the cabin, apparently inspired by the bees' lifestyle, is a polyhedron!
One side is cut off with a Japanese-style glass wall with a door, opening the interior space of the cabin to the wooden deck, which seem to just have fallen off the cabin's body from the upright position. In this manner, the hut looks like it has just landed here some seconds ago and is ready to accept new passengers on board.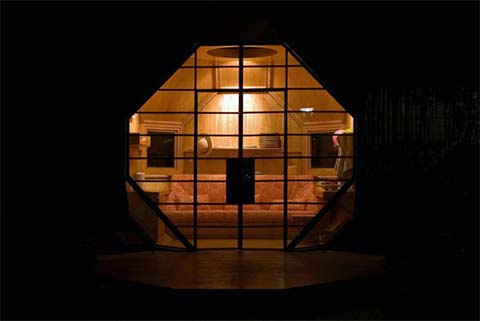 This effect is stylishly strengthened by different colors applied in the exterior and in the interior: the outer planes of the polyhedron are covered with charcoal dark roofing material, whereas the inner space and the deck are performed in natural yellowish wooden cladding. The smallest sides of this fashionable polyhedron are made into cute windows, and there is a cool round window in the ceiling of the structure, hinting once more at a possible outer-space concept.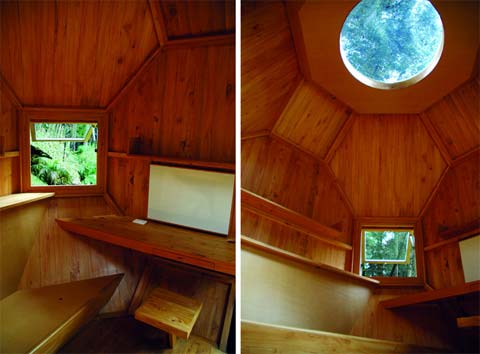 As I already mentioned, this 80.7 sq. ft. hut is not an inexpensive summer toy for children. It's more than that. Everything about it –the exquisite design, the exterior and interior materials, the furniture and the very air of the place – inspires us for other opportunities of how this stylish place can be used. A center of an outdoor party, a home office, a perfect guest house – this place will certainly be popular with its owners and their guests.