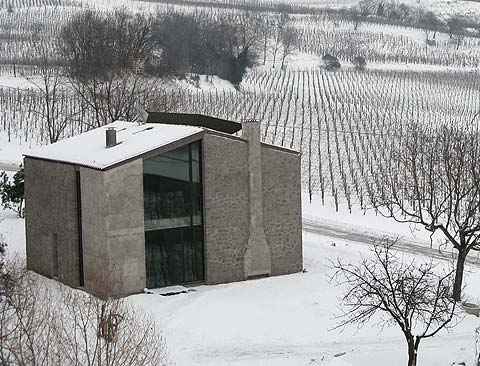 The project I'm going to introduce you today is a refurbishment project in Teolo, Italy. If you look closely at the picture above (at the bottom left) you'll see that one of the corners is clearly different from the other wall surfaces. This is the corner, which was missing, when the architects began to deal with the project of refurbishing the old, ruined building.
So the first crucial thing they did was to restore the original square lay-out of the building by adding a new corner. But they decided to perform it in a different material, so that one can undoubtedly see the new addition. The corner walls are concrete, whereas all the other walls are cladded with natural stone. However, the colors of both materials are similar, so no striking color contrast is created.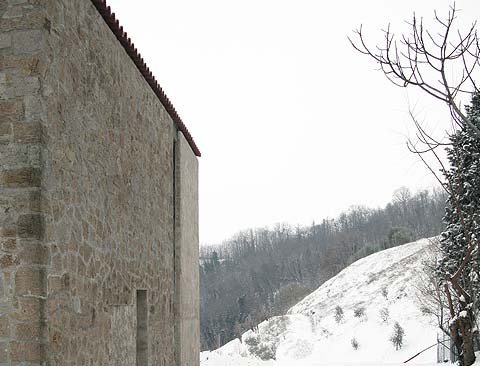 Beside this refined color and texture difference, the corner is emphasized by the huge glass walls, located next to the concrete walls. These glass facade stripes not only visually separate the corner from the rest of the building – they also are a beautiful design highlight. The combination of raw stone cladding or concrete and the seemingly fragile, polished glass surface have always looked advantageous!
All other exterior elements of the house are kept extremely laconic: very few openings and the roof with no overhang at all. In this manner, all the attention is being drawn to the texture of stone-cladded solid walls and to the new corner.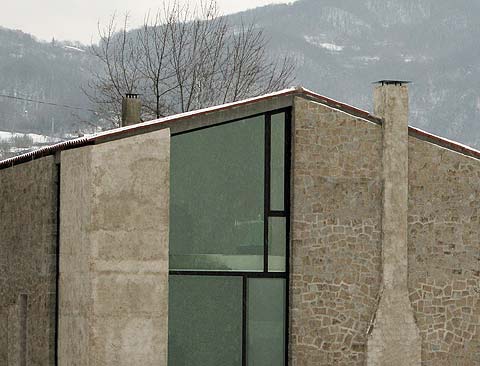 Take a look at the pictures of the inner space, which was totally redesigned as well. In general, it is modernly white and reserved, except for unique effects created by colorful lights on white walls – simply beautiful!