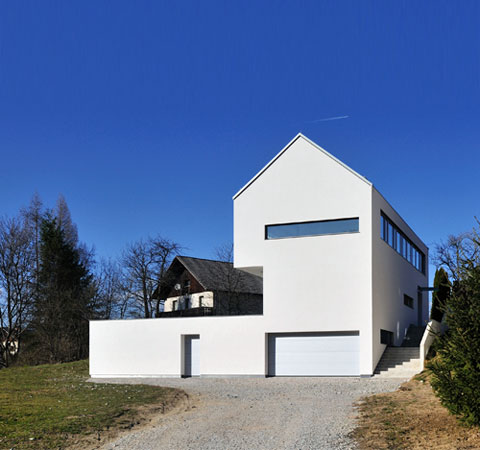 This new structure, located in Skofja Loka, Slovenia, looks a bit surprising in the surrounding of traditional rural farm buildings, doesn't it? Yet at the same time, something about this brand new, snow white home keeps the tune of the neighboring buildings and supports the structure fabric of the place. Hard to catch it at first, but after a few seconds you realize – it's all about the traditional shape of the house.
As I discovered afterwards, the harmonious effect of the building is not accidental at all: the new house serves as a replacement of an old farm building – part of the farm's courtyard buildings. According to the heritage preservation regulations, the replacement project had to have a similar form and location as the original structure.
So, various elements – double-pitched roof, long rectangular shape, its location perpendicular to the river slope – were not spontaneously chosen by the architects! No wonder, the building has this special "extra-modern – and – traditional – at the same time" effect.
Such a wonderful design…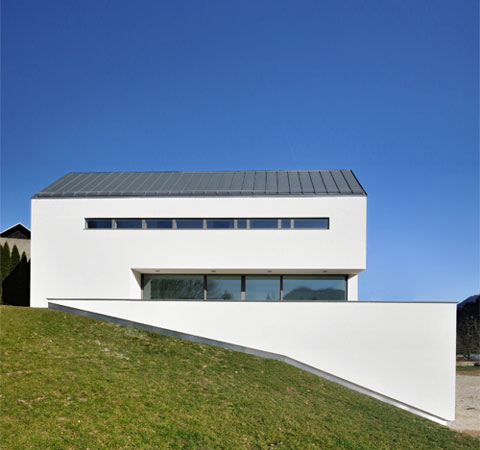 Clear, straight lines are not the only features of the exterior of this house: the floor plans are also extremely simple! (…which always fascinates me). The garage, sauna/fitness rooms and necessary household rooms are located in the extended basement; the bigger part of the ground floor area is taken by the living/dining spaces, which have a splendid decked terrace; and the first floor is divided among 3 bedrooms and 2 bathrooms.
I think that everyone, including the owner of the farm, is fond of this new building: this is a beautiful compromise between rural and urban life styles, between traditional and modern, and yet this is a house with a strong independent spirit in its own unique way.