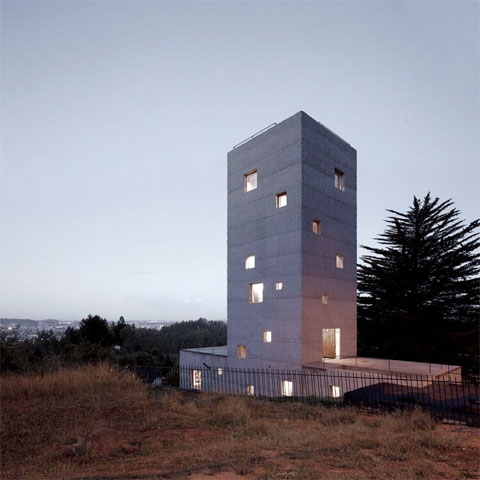 A tower for a home… Can you imagine how unusual and seductive this project can be? Let me introduce a peculiar house in Chile, called the Casa Cien. A single family residence establishes an "umbilical connection" with a luxuriant and mountainous site.
The project is composed by a monolithic podium and a tower with different-sized square windows offering framed views of the surrounding landscape. This construction almost erupts from the earth… like a mineral flower firmly rooted to its rocky ground!
The program distribution follows the unconventional shape of this hybrid volume: in the monolithic podium (lower level) are sequentially disposed all the social areas – kitchen, dining and living room – all cleverly related with the exterior; the tower volume (upper levels) organizes the private zones in a vertical order and can be accessed through a wooden spiral staircase.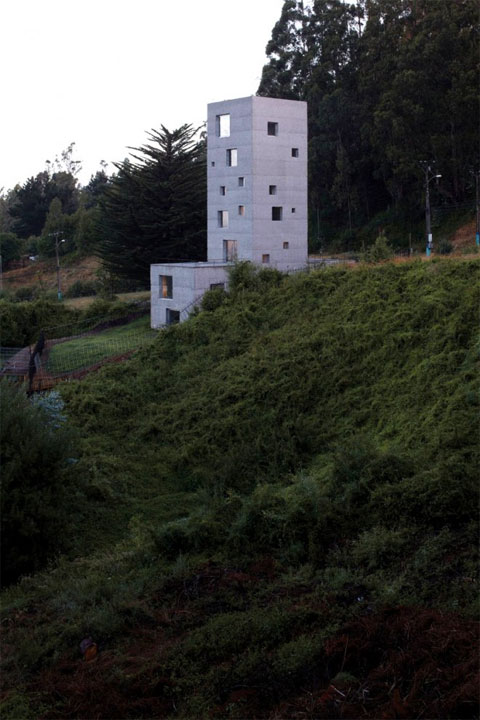 Open and neutral in their functions, each room is capable to be experienced freely by the inhabitants. A hidden modular rule gives this house its compact and coherent look: the use of a stacking system of concrete units as well as the surface finishing of the facades in exposed aggregate contributes to a highly textured expression of the exterior.
The interior materials are also related to this nuclear organic expression: walls and ceilings are clad in white wooden boards while the floor in warm tone wood remains as natural as can be… Plain and iconic, Casa Cien is a fine result of the fusion of two dominant formats: a horizontal volume and a vertical volume! New ways of arranging domestic living spaces are already taking shape…