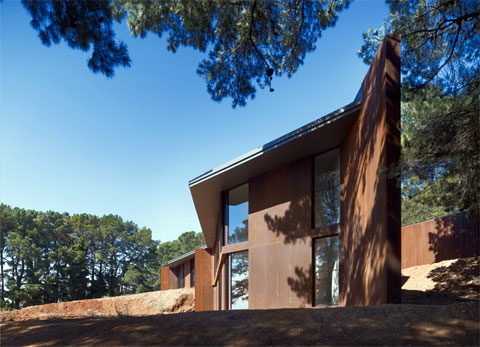 There's a red house at a red hill in Victoria, Australia! It seems a little repetitive but it's real and worthy of attention. A creative and impressive solution was given to a weekend home located on a hillside overlooking a bay between a framed set of pine windbreaks.
This exquisite construction has two floors gently nestled into the sloping landscape. The program spreads organically along the site like the roots of a tree, between rusty walls and glazed openings.
Rooms are disposed either side of a timber-lined corridor that extents the house, with bedrooms and living rooms positioned along the wall to offer them views out to the sea.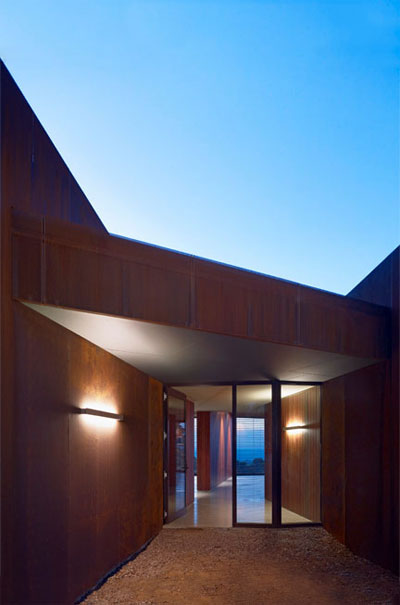 At the entrance level, a central hall gives access to all the social and private areas: to the left are the private rooms (two suite bedrooms on each floor) and the services and parking areas; to the right a sequence of three different spaces: a studio room (facing the hillside) an open living and dining room connected to the last partition of the house, the kitchen, both facing the Port Philip Bay.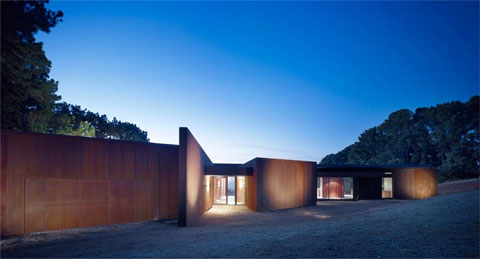 Wood panels clad the interior walls reaffirming the dominance of the horizontal axis. Stone pavements and white painted ceilings also reinforce this concept. From a certain distance, the rusty steel cladding appears to be solid as a rock, however a closer look reveals a transparent covering of tiny circular perforations.
But the most impressive detail of Red House is the consistency of the cladding along with the jagged composition of walls and roof that almost turn it into an "inhabitable chameleon", perfectly blended with its red rusted surrounding environment.