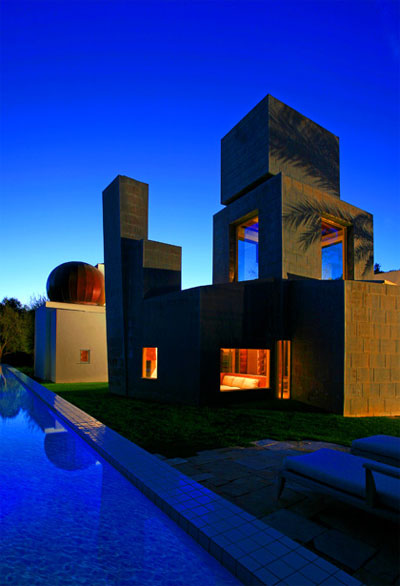 I know what you think after having thrown a glance at the picture – that it looks very much like Frank Gehry's style. And – bingo!
This wonderful artist created an independent architectural style and is, undoubtedly, a mighty figure of contemporary world architecture. Gehry's manner is so very distinctive, that if at some point you've seen his work, you will be able to identify his architecture. It is difficult, indeed, not to recognize the handwriting of this prominent contemporary master. Even if a similar style building was created by another architect, you would still describe it as "Gehry-inspired".
This LA residence was built in 1989 for a man called Rockwell Schnabel, that's why it is known as Schnabel House ever since. In 2006 this masterpiece was purchased by film producer Jon Platt, who updated the house with modern technological features. Let us take a closer look at this gigantic 5,700 sq. ft.residence, for it is more sophisticated than it may seem.
First of all, it is not a solid block: the house consists of 4 more or less independent volumes – the main building, the office, the gym/garage and the guesthouse – each of which has unique features. For example, the copper sphere at the top of the office building symbolizes the childhood wish of a former house's hostess to live in the LA's Griffith Park Observatory and was meant to remind her of her favorite building. All building blocks are finished in different materials (which is also so like Gehry and so elegant!) – stucco, lead, and copper.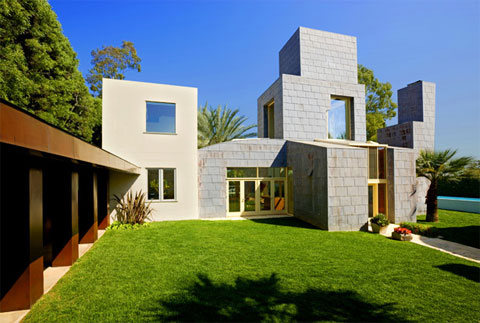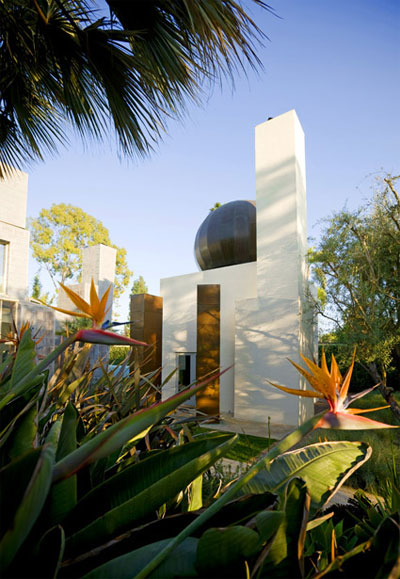 The main building is worth giving it even more attention. Being metal-cladded outside, it looks like a three-leveled fairy-tale tower. On the ground floor it is developed as a cross in its layout, with vast areas of roof windows, creating a magnificent interior space. The bedroom also has a marvelous skylight. White stucco walls, exposed wooden structure elements, big skylights and generous window facades make the interior space of this house warm and absolutely unique! As they say "the true master's hand is felt all over".