After first glancing at Villa Rotonda's pictures you might think this is one more example of a beautiful renovation. Indeed, the traditional form of the house's main volume, its double-pitched roof, the massive chimneys, the grey brick walls, and slate tiled roof, incline you to think of historic pieces of architecture. Yet this structure is absolutely new! Let's take a look closer…
Is the house so modest as it seems? Surprise! First of all, the scale of the house: it looks very closed and minimalistic from the street side, but turns out to be quite extended and developed into the garden direction, towards the swimming pool and perfectly green lawn.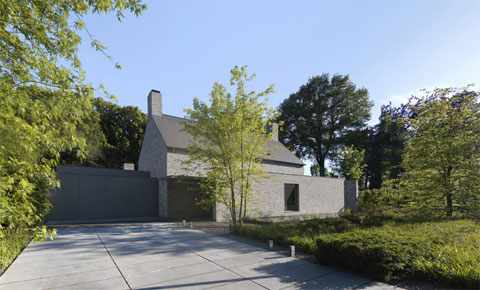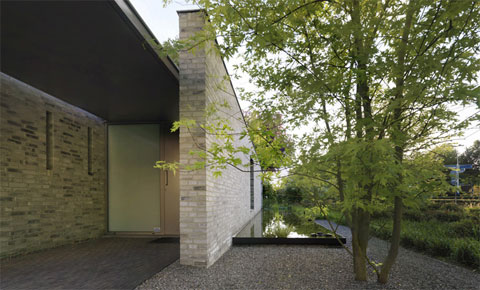 From the inner yard, the main house's volume looks unexpectedly very modern: its elevation, which faces the yard, is all made of glass. The side parts of the building (actually, the wings) are lower – they are only 1-storied – and modernly flat. Only the chimneys, which peer out from the solid gable walls of the main part of the house remind you of your impression of traditional while viewing the house from the street.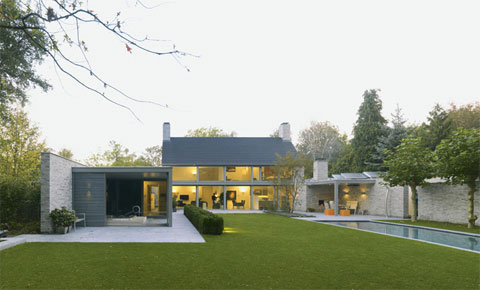 Such a dual concept of a private home – closed from the outer world, but joyful, comfortable and spacious inside, for its inhabitants – seems logical to me and I do like it.
P.S. – and I absolutely adore this architects' invention with water just between the house's wall and the decorative garden walls! Some may say this is already superfluous, especially for such an elegant, tranquil house, but I find it lovely.