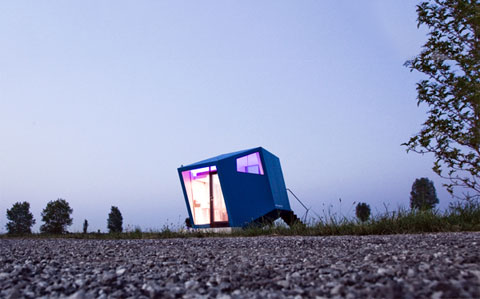 In Styria, Austria, a new concept of modular housing was born, aimed for a special purpose: tourism! The Hypercubus testifies the capacity of architecture to respond to various needs and possibilities. This tiny housing unit uses existing resources in its composition, and thanks to its mobile construction, the Hypercubus can be easily transported to any kind of location offering flexibility and freedom of use! However, what really blew my mind as I first saw this tiny building was its volume and shape… A twisted cube seems to be defying gravity with its strange sloped position.
To step into this curious conceptual house, a black metallic staircase must be crossed. A full-height window receives us at the highest level of this small cabin…but small don't necessary mean inefficient. Its entire space is cleverly explored in order to achieve the most perfect functionality: once inside, an entrance area shows the absence of interior opaque partitions. A tubular ladder gives access to the bed positioned above the bathroom and toilet space while a staircase leads to the ground floor where the previous services are located behind a glass wall…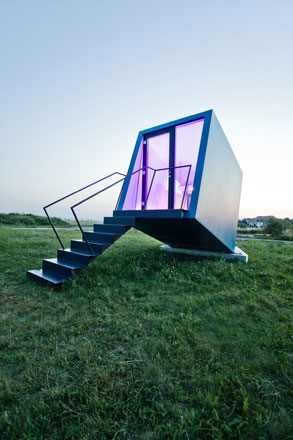 A wooden skin covers all the wall and ceiling surfaces of this free-standing structure where daylight can generously enter through the two opposite glazing facades. A lonely elevated window is deliberately designed in line with the bed – a plus to the lucky dweller that will enjoy a marvelous sunset or sunrise while resting inside this phenomenal, yet ever-so-tiny building.