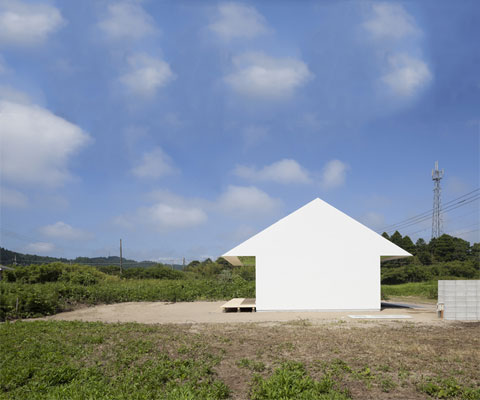 Architecture should always be about positive thinking and its main goal should aim to the most unreachable of things where heaven is the limit… and the ISM House literally points in that direction!
This small seaside house in Chiba, Japan, has 78 sq. m. of constructed area and dominates the landscape with its acute white arrow form. Just like a flower that erupts from the ground, this artificial body with its unusual volumetric configuration claims all the attention. A vital question has instantaneously jumped into my mind: Can an arrow be inhabitable? Let's find out…
A black ramp leads into an entrance door made out of wood, contrasting with mysterious white painted facades. In fact, the access to this clever building is doubled by two large doors placed in both main facades, opening a channel through the middle of the house. The center of the house opens completely like a tunnel, allowing people to enter and park their vehicle. Cool.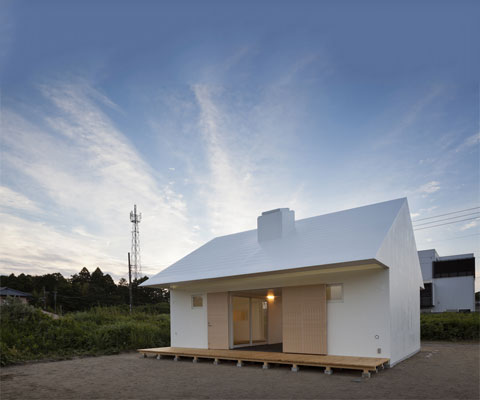 The living and dining areas are connected to this central space by sliding glass doors, promoting visual and spatial continuity. A gabled roof resembles the point of the arrow, while extended eaves create protection for an outside terrace and let light penetrate internal spaces through glazing.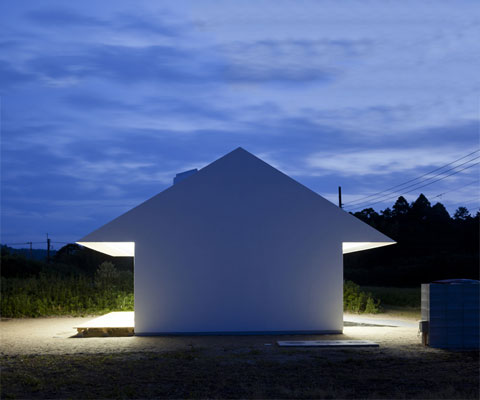 The exterior surfaces of the building are carefully enveloped in waterproof fiberglass reinforced polymer to defend it from any kind of damage caused by salt water in the air. A column-free mezzanine accessed by a wooden staircase was designed in order to obtain the most open atmosphere possible… It seems that in this unique house, up will always stand as the principal character!