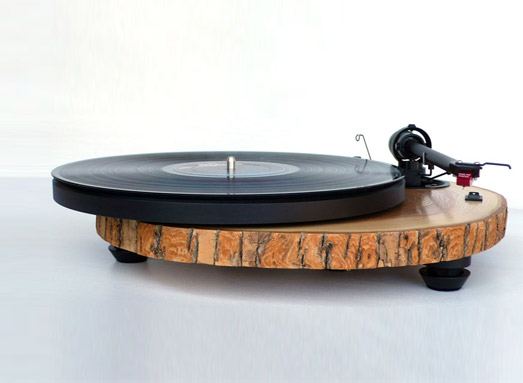 This isn't your grandpa's old record player. Modern, sophisticated, and distinct, this turntable is sure to turn heads. Made from a round of reclaimed ash wood, each Barky by Audiowood turntable is unique and not one table is exactly the same. Its fusion of industrial and natural materials gives this player a casual elegance that would complement any interior design.
The Barky features a heavy duty glass platter eclipsing a smooth ash round and its beautifully boasted inner rings, all encompassed within its perfectly preserved external tree bark. In addition to its striking physique, the turntable features hi-fi Rega audio parts for precision audio sound.
The Barky is a great turntable for the avid record collector, but even if you don't have an extensive record library this piece is so impressive that just a crate with a few of your favorite vinyls next to the Barky will still make you look like a seasoned pro.