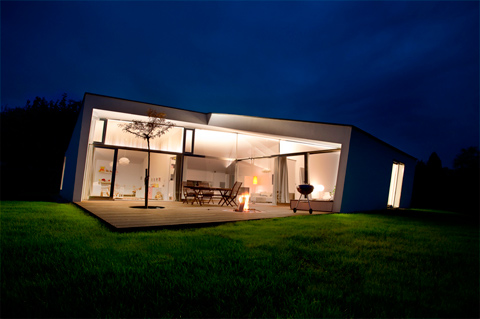 The forms of Villa 3S have delighted me at once by the unity and scale of its design concept. The outer structure of this 1560 sq. ft. single family house in Graz, Austria is treated as a solid envelope, incorporating roof and walls. Located on a slope in an ideal open green meadow surrounded by woods, the house perfectly fits the environment, supplementing it and not dominating over it.
The alliance with nature is perfectly developed further – by the big window facade that provides an exciting overview of the surrounding landscape. However, because the scale of the house is rather small (one story building), this glass surfaces don't spoil the coziness and the intimacy of the house design concept.
The building has a twisted form, so that the glass elevation is curved around the wooden decked terrace. The opposite side of the house has another terrace and a stairway connecting the double parking space.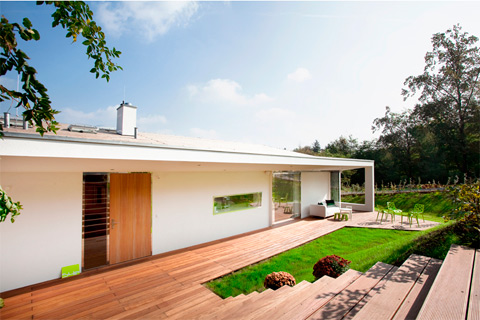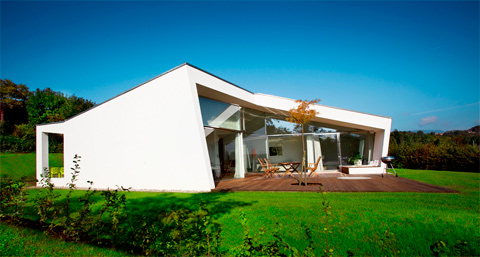 There is nothing superfluous about the house: everything is designated for the needs of a specific family. That's why the total concept is perceived so harmonically. The planning structure of the house is not overloaded and quite small-scaled, too: the main core consists of an open plan kitchen, dining and living rooms, while bedrooms may be opened up to it or closed, providing the possibility of privacy and social. Great house, great location, great architectural design!