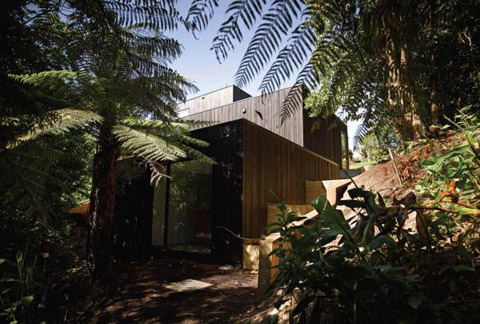 Step sites are always a changeling adventure to architects… Waiatarua House in Auckland, New Zealand is a consequence of such a challenging circumstance. This three-story volume has a building area of 225sqm and presents a formal composition based on overlapping blocks. This conceptual principle results from the desire of creating the minimum disturbance of the site's natural topography.
The spatial organization is developed in the following order: ground floor plan is preceded by a large entrance patio that connects directly with the garage and the front door. Once inside, a generous open-space is reserved for common social areas – kitchen, dining and living room – extended outdoors by a suspend veranda.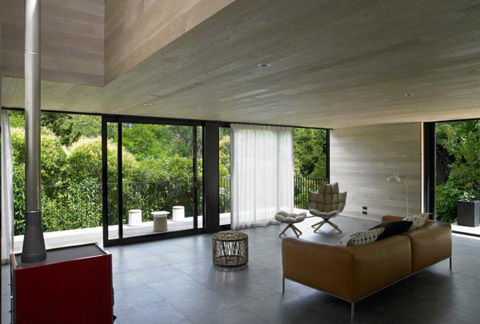 A central staircase is intentionally positioned in the middle of the composition connecting with the remaining floors: a master bedroom with a private bathroom and a study room are placed on the upper level while two bedrooms and a common bathroom are disposed on the lower floor.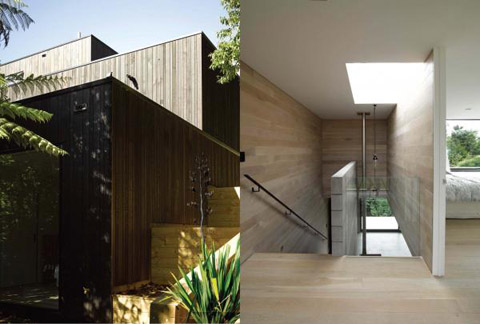 Waiatarua House is generously open to the natural surrounding context, as if the inhabitants could freely interact with the birds and other kind of tiny creatures of the forest… In fact, a special design for the retaining walls was developed so residents could have a domestic garden for vegetables and fruits.
The entire facade is covered by wood planks as well as the ceilings and surfaces of each room, except the white painted ceiling of the first floor. Huge sliding windows along with wooden decks contribute to a deep relation between architecture and nature. A step site has been perfectly domesticated!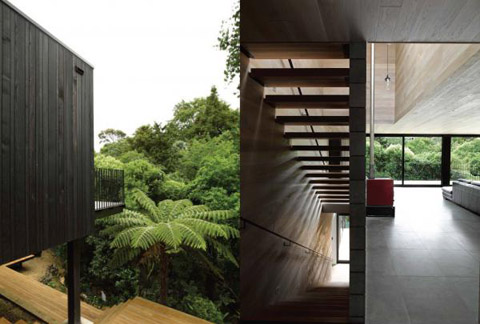 Architects: Hamish Monk Architects
Photography: Mark Smith