In Ontario, Canada there's a building that deals with the landscape in a very unusual way. House in Calderon is a two-story building, with a total floor area of 400sqm, serving as a magnificent home for a family of four. A gravel path in the immense green landscape leads to this sort of hidden construction – a green roof contributes to a smooth integration where only two metallic skylights mark the exact location of this inhabitable chameleon.
The ground floor is mainly composed by private areas, three bedrooms and bathrooms all sharing a special relation with the exterior. A ramp gently descends to the lower level of this family home where social areas can be found: an open space plan gathers living, dining and kitchen areas while a second set of three bedrooms is positioned in the small portion of the L-shaped plan composition.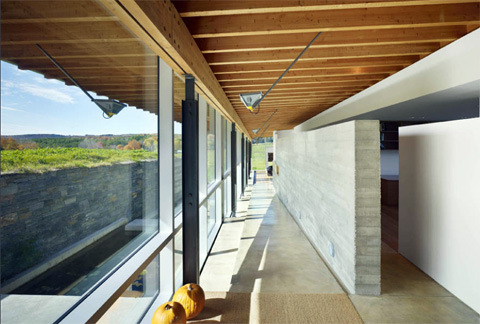 A bright metallic skin covers the entire building except the front facade, where large glazed openings illuminate the circulation area between the two levels. An exposed wood structure dominates the atmosphere inside this enigmatic piece of contemporary architecture, contrasting with the white painted walls and the grey concrete wall in the entrance hall.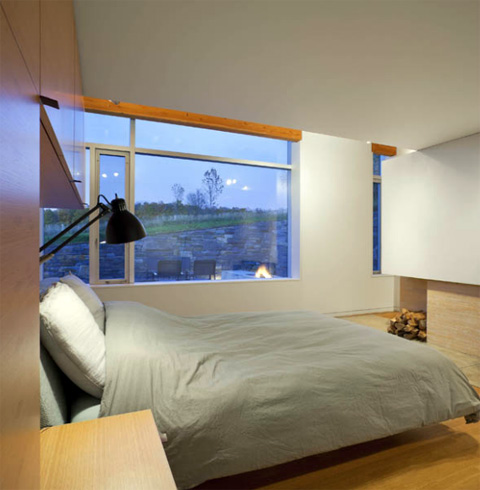 At the end of the day, two bright artificial eyes shine in the dark landscape of Calderon, testifying the presence of life underground.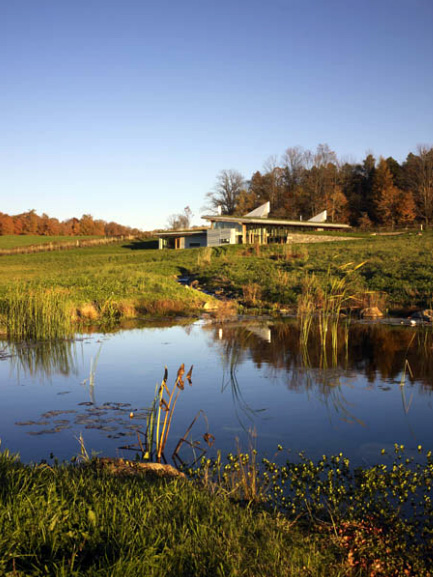 Architects: Ian Macdonald Architect
Photography: Tom Arban