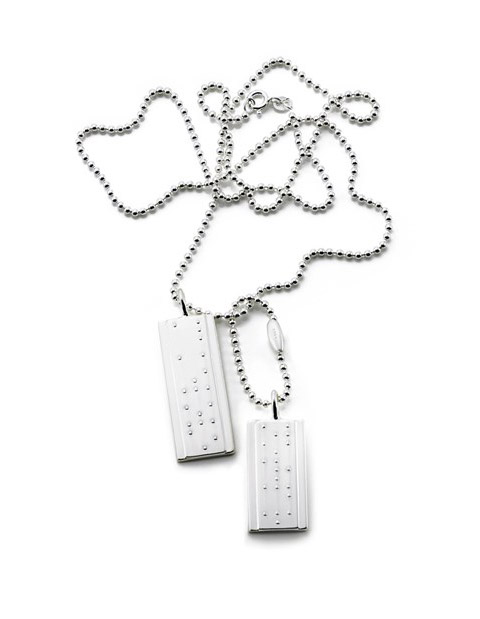 How may times do we hear the expression "Make love not war" only to wish it would actually take place more often in reality? Multi talented designer Efva Attling is spreading the words of peace and love in a totally unconventional way, calling irony to take her side. She's using a unisex stamped tag necklace with the message in embossed printing. The tags remind of military badges and here lies the first part of the irony: to write an in fact peaceful message on a symbol of the army.
The second part is contained in the far too clever idea of using braille language to write the message, a language mostly unknown to the seeing, unless they have received a special training on the language of the blind.
Efva mixes successfully humor with irony in this piece of her namesake jewelry collection, a line she herself calls beauty with a thought. The tags are made of silver, measuring a width of 0.5 and a length of 0,4 and they come together with a ball chain. I really like how discrete they appear while in fact conveying a strong message in unconventional ways. Would you add such a piece in your a collection? Would you give it as present?