The Creative House, by Z_Lab Design Group is… well… creative. A common predicament that many face when confronted with an extreme renovation such as this home is "do we tear it down or do we keep it?" Understandably, local zoning and permitting restrictions may fully or partially dictate what can be done, but in the instance of the Creative house, in Seoul's Changsin-Dong district, Z_Lab took on a full renovation in every sense of the word.
The house was/is a traditional Korean-style dwelling built in 1937. The home sits on a very compact plot with minimal lot lines. This is the type of home site you'd find in most dense urban environments around Asia or Europe. After years of neglect, it's not surprising that the original structure was in massive disrepair. Z_Lab had a massive undertaking ahead of them, as the roof was caving in, some of the structural elements were no longer structurally sound – ultimately the structure was only in essence a house.
Due to the fact that the house is nestled within a less-desirable area of town, the idea was to create an enclave – a self-contained unit wherein the living spaces open up to a small, yet charming courtyard area. The concept was then built upon to include a full branding and marketing campaign that would turn the completed project into a short-term vacation rental property.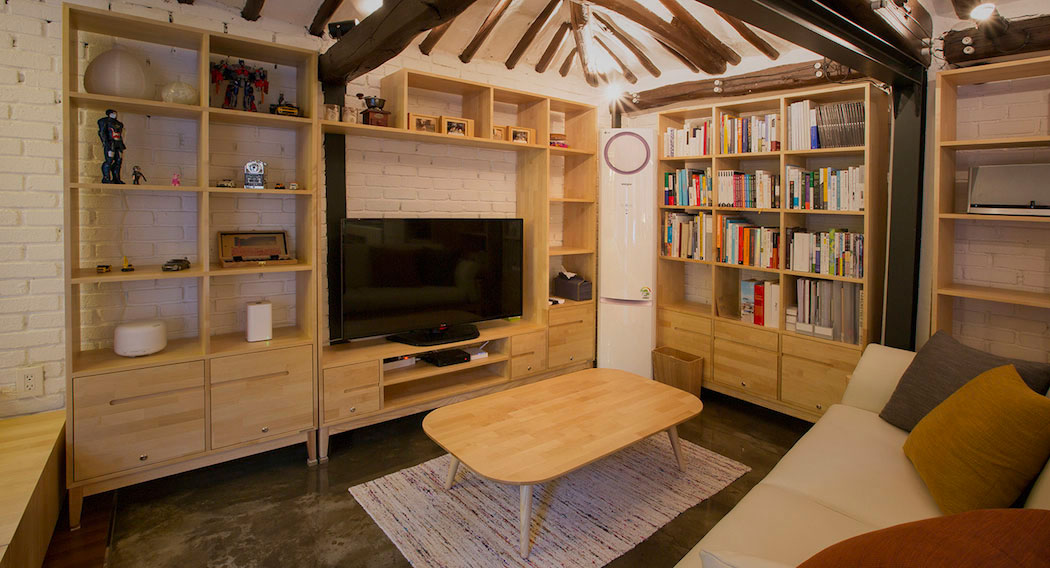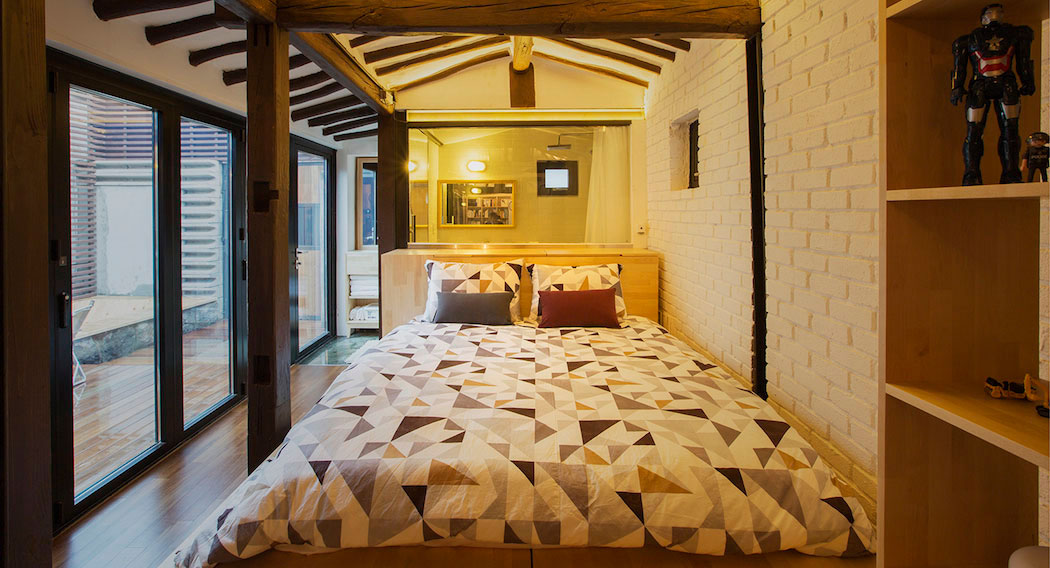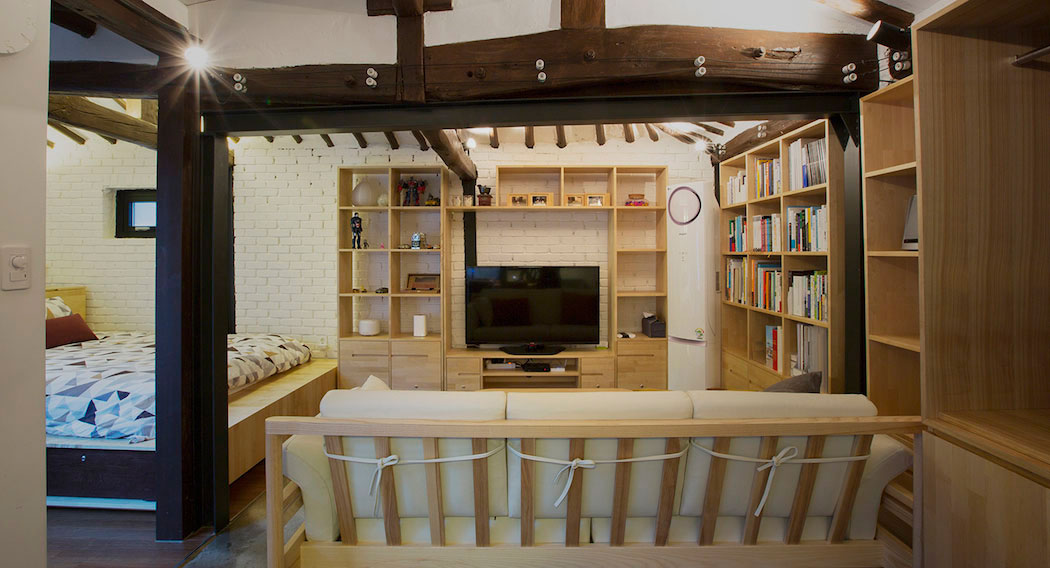 It would seem that the results were well worth the effort. From the outside, the Creative house maintains the traditional styling cues, albeit from behind a tasteful stone and brick wall. Gone is the old tile roof, and in its place is a sleek, dark, metal roof. The lack of soffits allow for the gently pitched gable of the roofline to integrate with the stucco facade via darkly colored metal cladding. The effect is a merger of both old and new.
Inside this L-shaped house is where creativity takes hold. A mixture of materials and textures is as comforting as eclectic style could be. One enters the house via wood decking – which gives way to hardwood plank flooring inside. Where there is a lack of hardwood floors, one will find dark-hued polished concrete floors. A modern reflection of the traditional post and beam elements integrated into the vaulted ceiling areas for additional structural support. The Creative House also features exposed brick walls throughout, painted in a subtle neutral color, which acts as the proper backdrop for natural wood Scandinavian-style furnishings.
Z_Lab design has successfully accomplished a full-blown renovation of an aged, derelict property – breathing new life into what is now a charming getaway for those seeking quiet refuge within a bustling metropolis.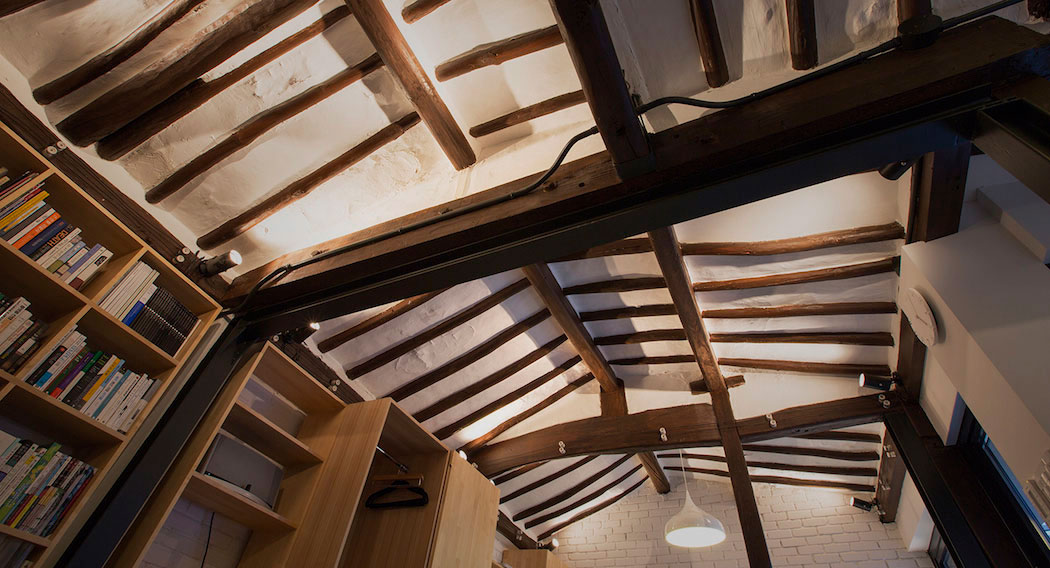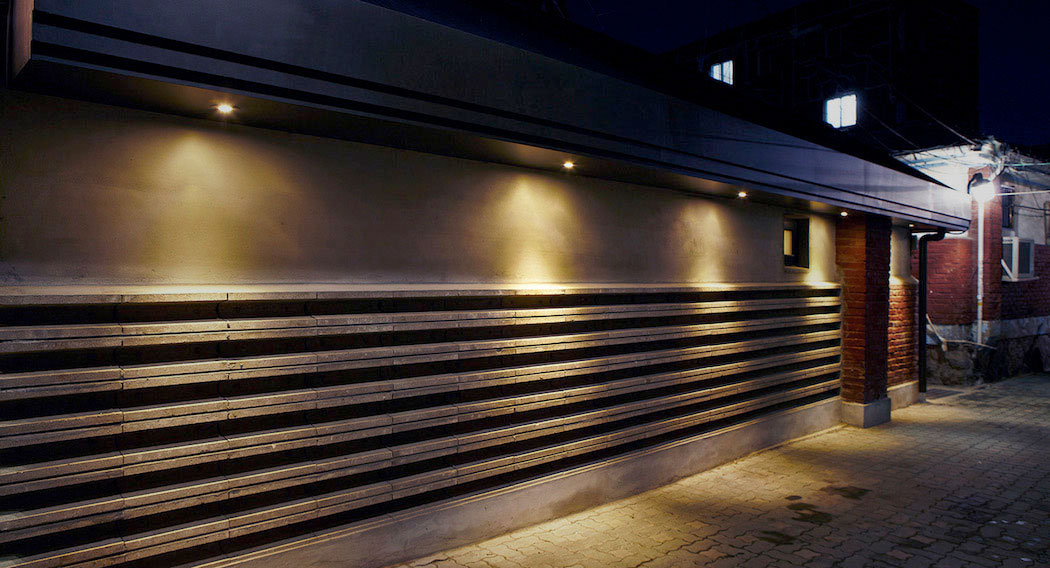 Architects: Z_Lab Design Group
Photography courtesy of Creative House