It all starts with a site: a majestic plot of land nestled on a sloped bank of the Pacific Ocean in West Vancouver, B.C. Throw in overlapping cubes of concrete and glass, warm accents of wood and light, and a breathtaking waterfront view and you've got yourself a recipe for architectural bliss. Splice Design gives us the Russet Residence – a sprawling modern mansion that emerges from a direct formal and material response to existing topography and native vegetation. And did I mention the view?
The conceptual force behind Russet relies on various undulations of open and closed, light and dark, expansion and contraction. The modest entry facade at the top of the hill quickly gives way to massive interior volumes and floor to ceiling openings.
The primary living spaces are anchored into the side of the hill, but also shoot out and float above it as the stacked cubes spill down towards the water. These spatial juxtapositions give the project a dynamic sense of visual perception. The designer takes us through an architectural tour of the land that was left behind, but not forgotten.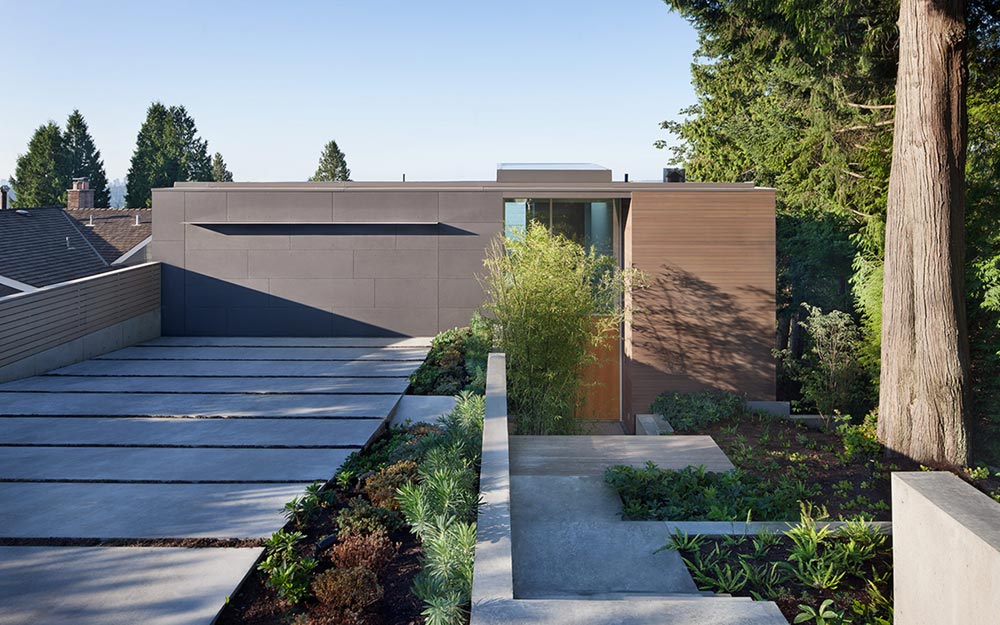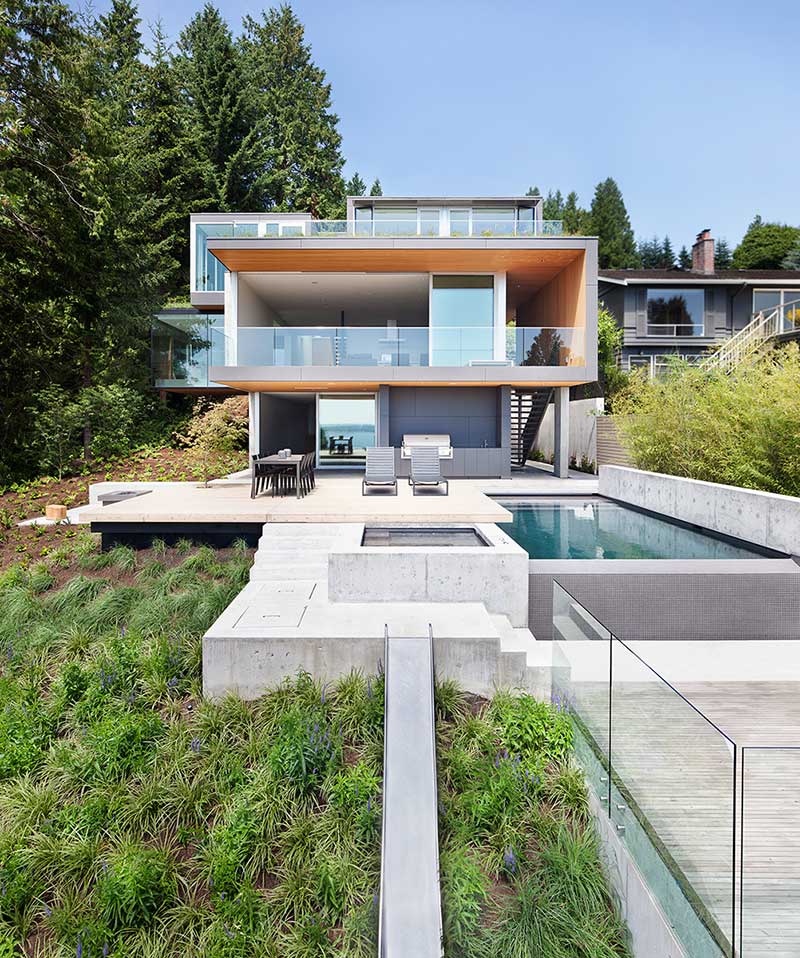 The entire design is packaged in nuanced precision, making this amazing home as beautiful an object as it is an experience. Massive concrete walls manipulate, retain, and sculpt the sloping hillside. Thin metal frames float taught planes of glass high in the air, framing views and modulating light. The details are so well executed they in effect disappear, allowing the building to exist as a pure expression of the site.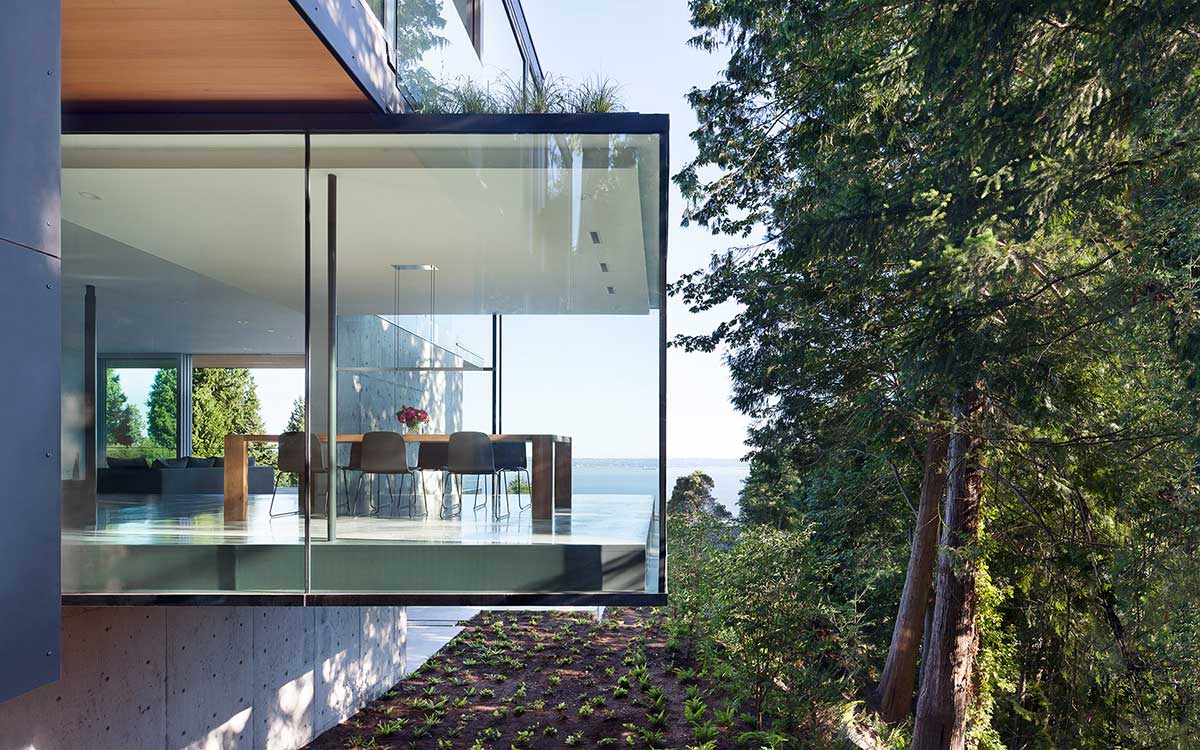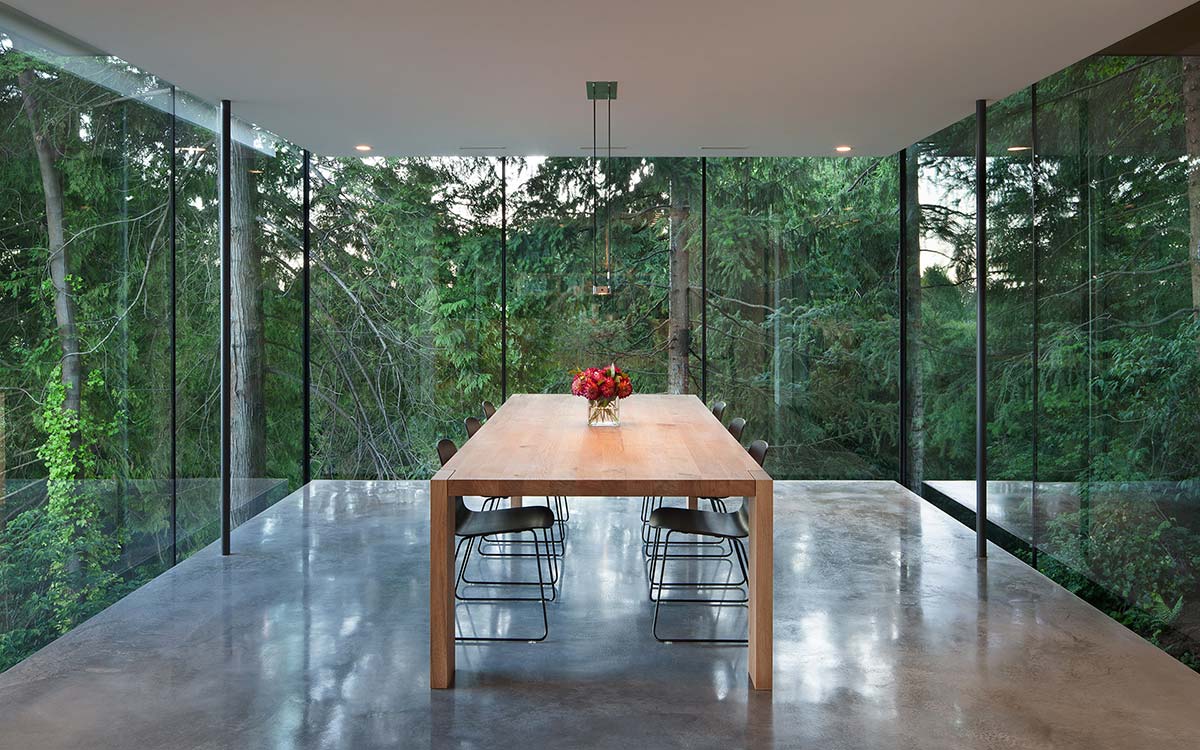 The interiors mirror the exterior in material simplicity and formal cleanliness. The spaces flow together nicely and act to push your view out towards the water. A full width deck hangs off the main living space, extending the volumes of interior space and further drawing in the majestic landscape. Everything feeds off the visual energy provided by the existing sights and sounds.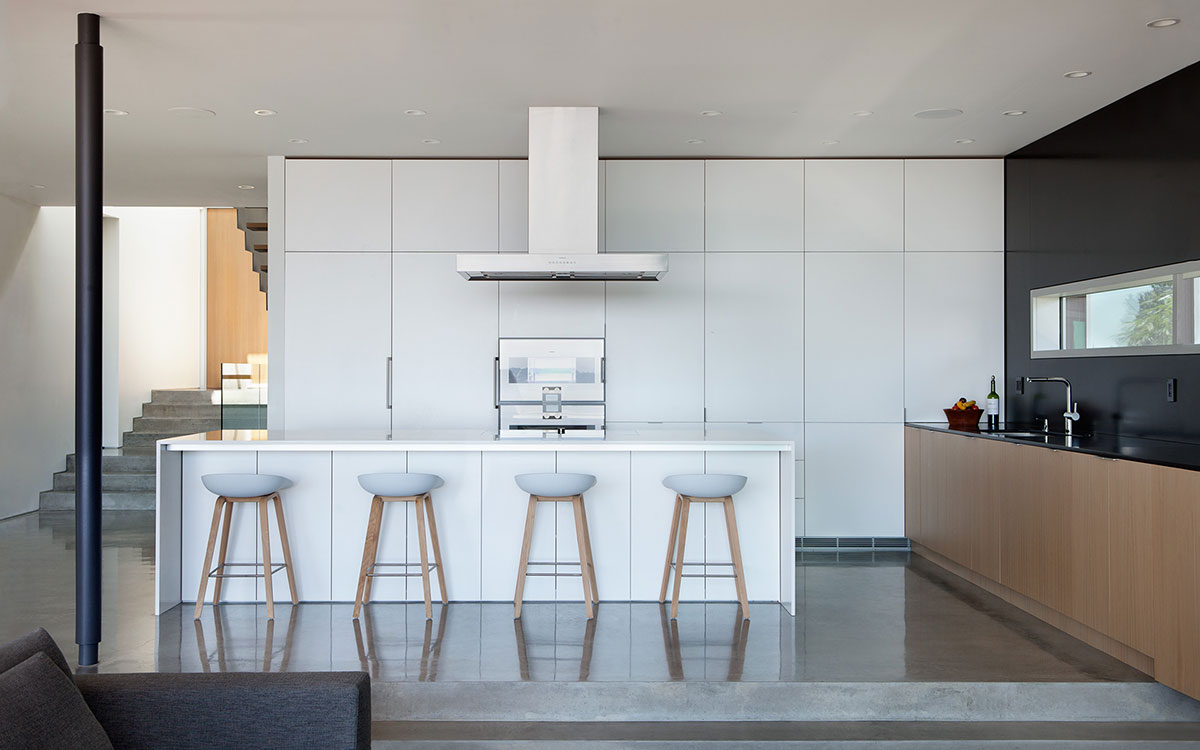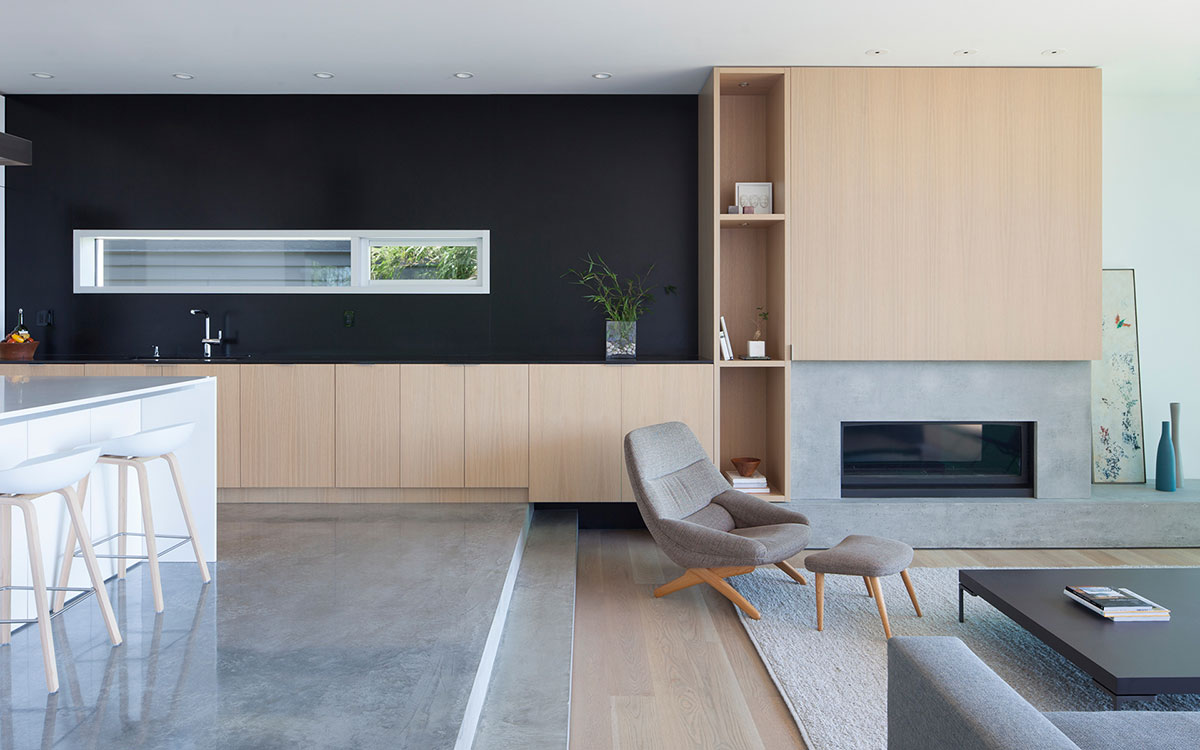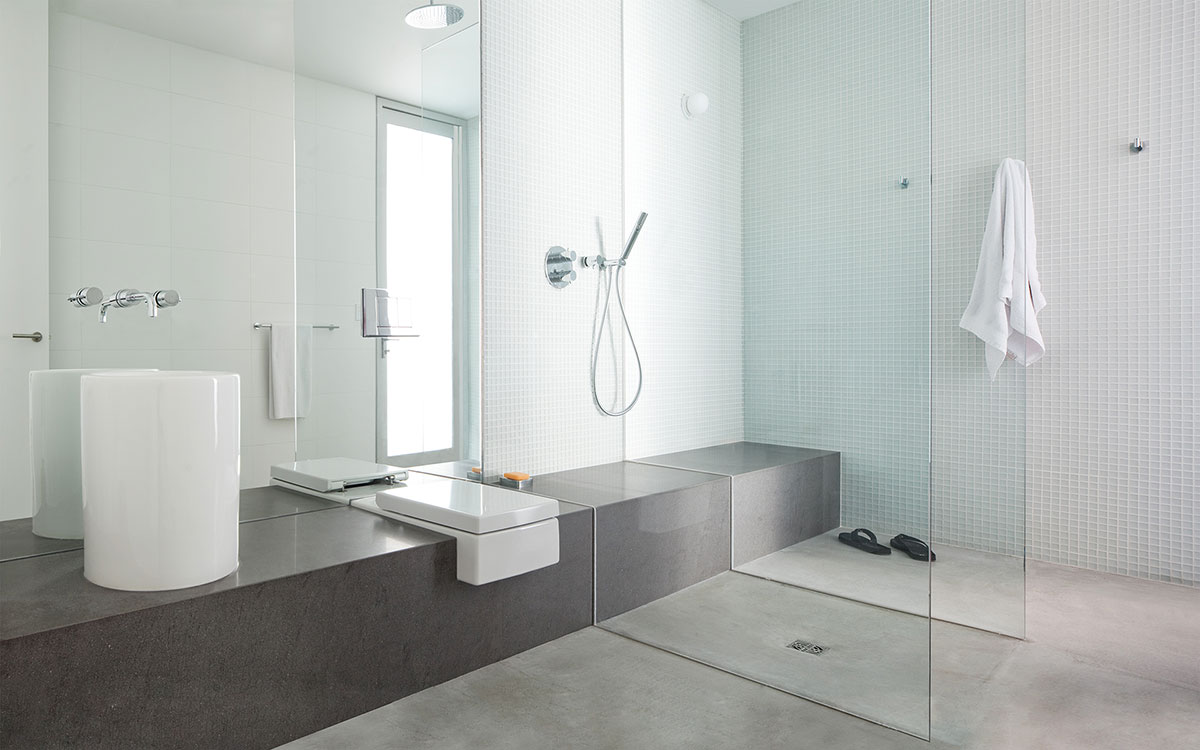 The Russet Residence is a rare beauty. Every design decision reinforces its connectivity to place – blurring lines between in and out, natural and man-made. The symbiotic balance between site and structure is what makes this project truly special.
Architects: Splyce / Nigel Parish, Tomas Machnikowski, Michelle Bikic
Photography: Ivan Hunter