The Alfred house is a two-sided sheet of origami paper, folded and creased and flipped on top of itself to create a dichotomy of space and light that oddly results in a serene and accommodating Australian home. Maynard Architects have crafted a bright urban sanctuary that stands out as much as it blends in with the existing city fabric. It's small, simple, elegant, and creates just enough visual intrigue to keep guests on their toes.
This tiny home faces an alley where it smacks passers by in the face with a massive glazed opening. Adjacent to that is a large sliding metal door which, when open, reveals a modest space for the owners motorbike and an assortment of odd tools and eclectic nic nacs. The uninterrupted view through the home reaches as far as the rear yard, where another massive opening provides an apt bookend to the exposition madness.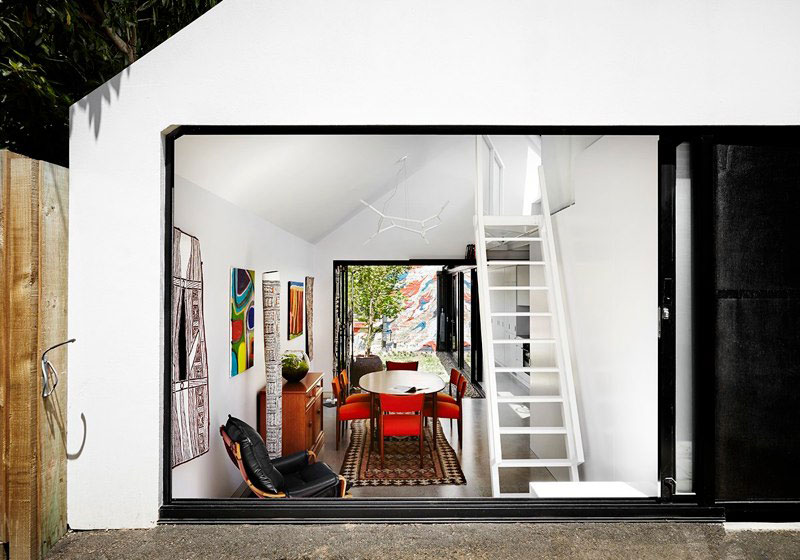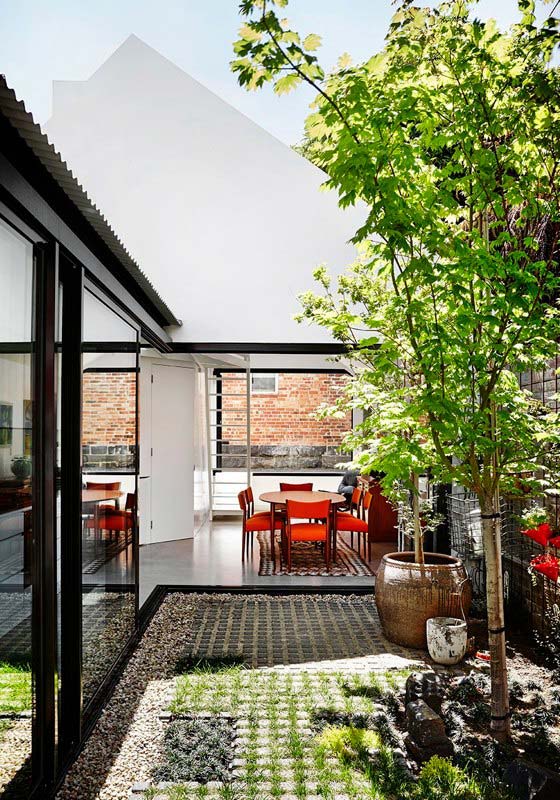 The rear courtyard features a small patch of sunny landscape that opens completely to the living and kitchen areas of the home. Adjoining walls of glass shift aside to remove the barrier between interior and exterior space. A long hallway slides along the courtyard to more private spaces at the back end of the home.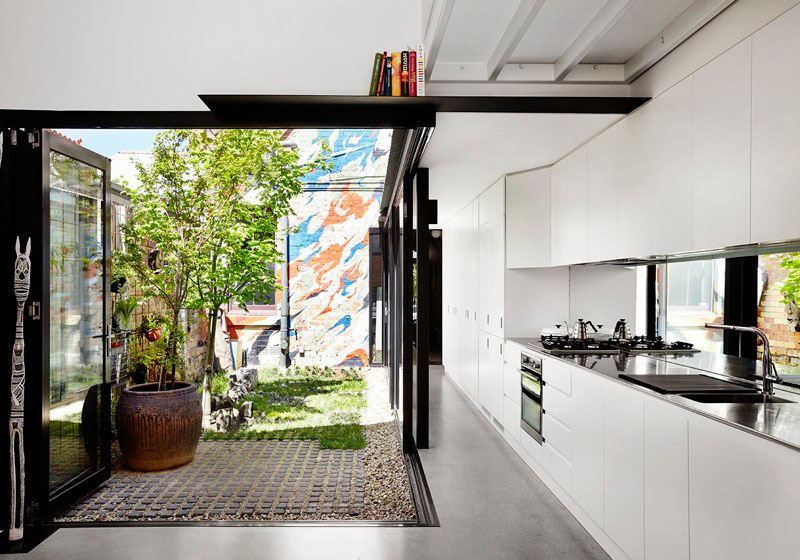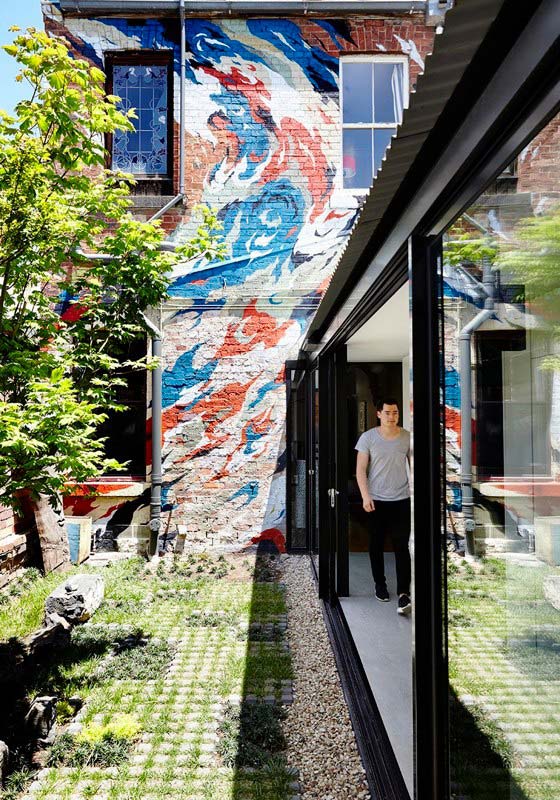 The interior and exterior are both blanketed in a smooth white finish, giving way to the illusion that there are no distinction between the two. It's a confusing sensation, and reinforces the idea that the home is a carefully folded piece of paper, made sturdy by inherent strength in shape and nothing else. Subtle accents of color pepper the interior and almost always demarcate a 'cutting' into the stark white 'paper.'
An exposed staircase – also clad in white – takes you up to a suspended work area punctuated by a series of clerestory window openings. There isn't a great amount of verticality to the interior, but this bit of lofted extra space feels like just the right amount of salt added to the stew.
Andrew Maynard has done it again, creating a unique and uncompromising set of spatial adjacencies that fit perfectly onto the site they inhabit.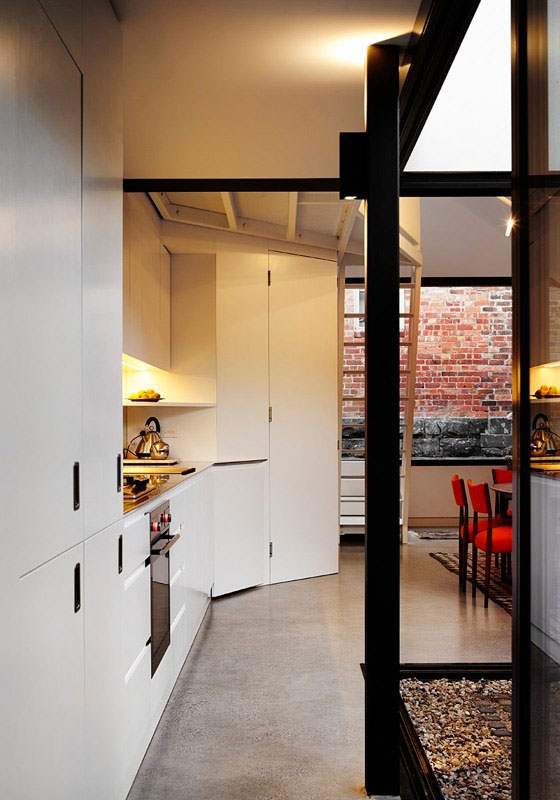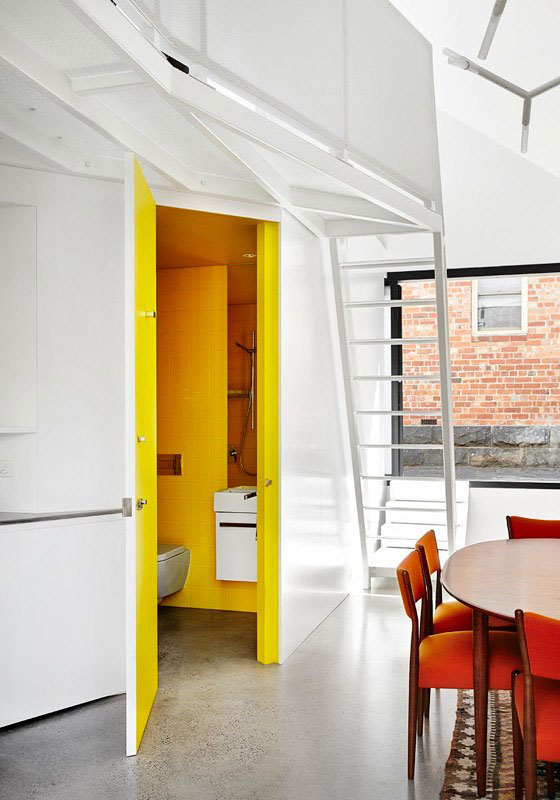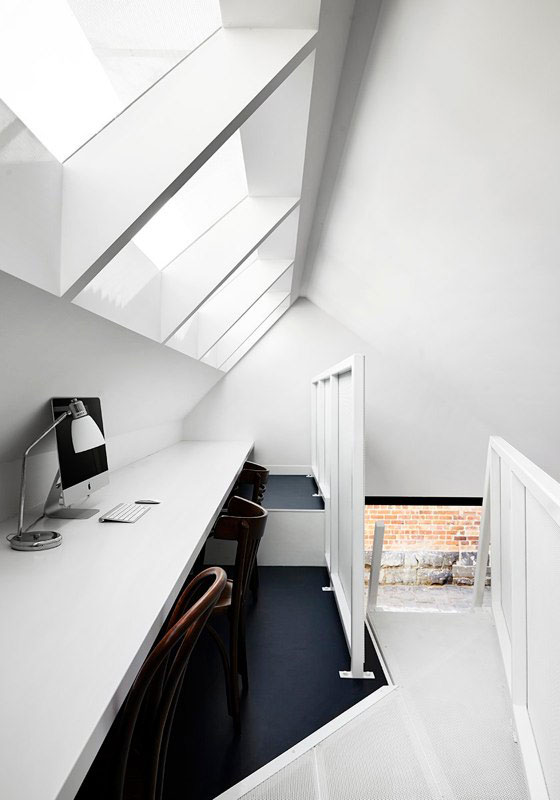 Architects: Maynard Architects
Photography: Tess Kelly