The Breathing Wall Residence gives new meaning to the term "ecological architecture." This brazen contemporary effort from Lijo.Reny.Architects utilizes a semi-conditioned central courtyard filled with plants and trees to naturally filter air and light throughout the rest of the house. Taking that concept a step further, the designers have integrated a breathing wall system where living plants act to passively heat and cool interiors without the need for active, resource consuming climate control techniques. It also happens to be a stunning example of materiality, spatial organization and overall jaw-dropping appearance.
The footprint occupies a narrow lot in the city of Nellikkunnu in Kerala, a tiny state at the southern tip of India. The program is separated into two wings separated by the aforementioned central courtyard space. The courtyard features a beautiful open stair that leads up to the more private spaces of the home. At ground level, a quiet living space feeds into the kitchen, all of which are protected from the busy city but a series of natural buffers and low walls.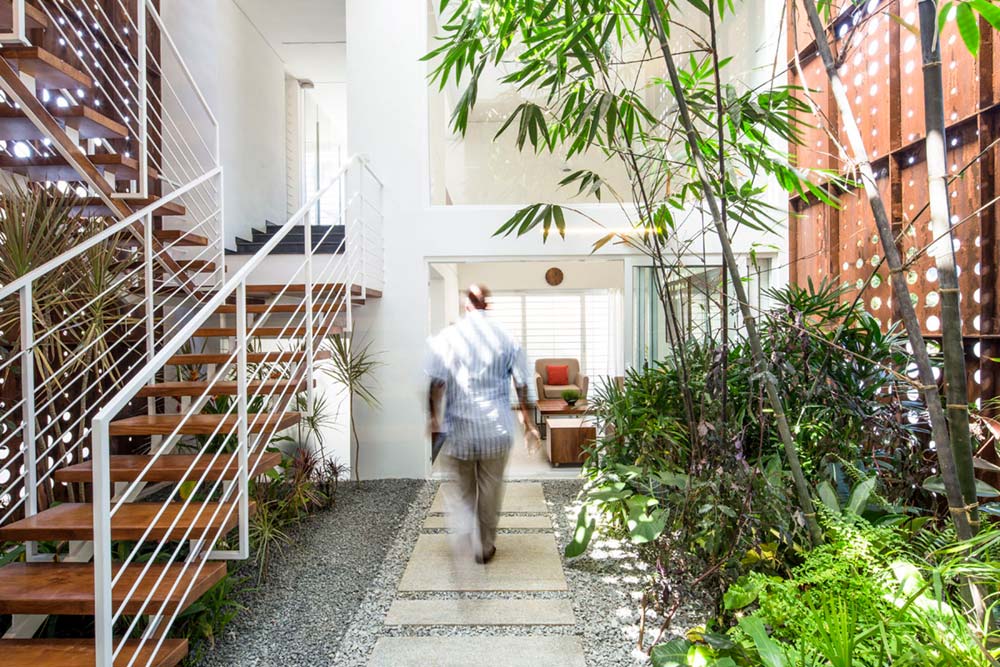 The most striking feature from the exterior is the perforated, rusted steel panels – framed in by clean white stucco and overhanging a bustling city alley below. The panels not only add a bit of visual intrigue to the primary facade, they filter light into the interior spaces in a way that mirrors the natural effect provided by the plants and trees in the courtyard. Furthermore, the panels allow air to freely flow through the wall system, pulling away heat and allowing the home to stay cool without the need for air conditioning.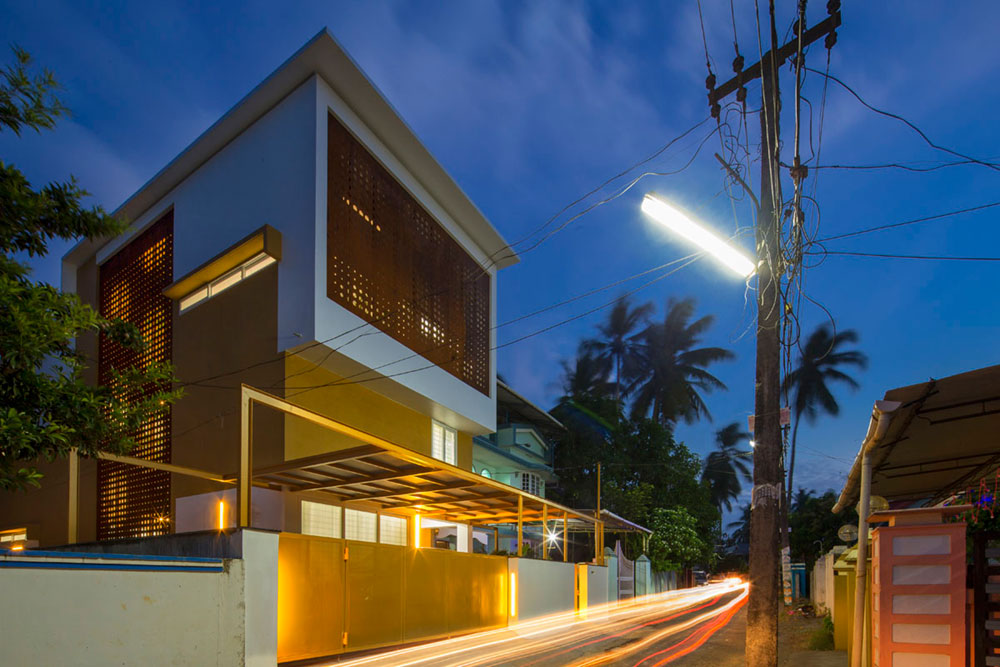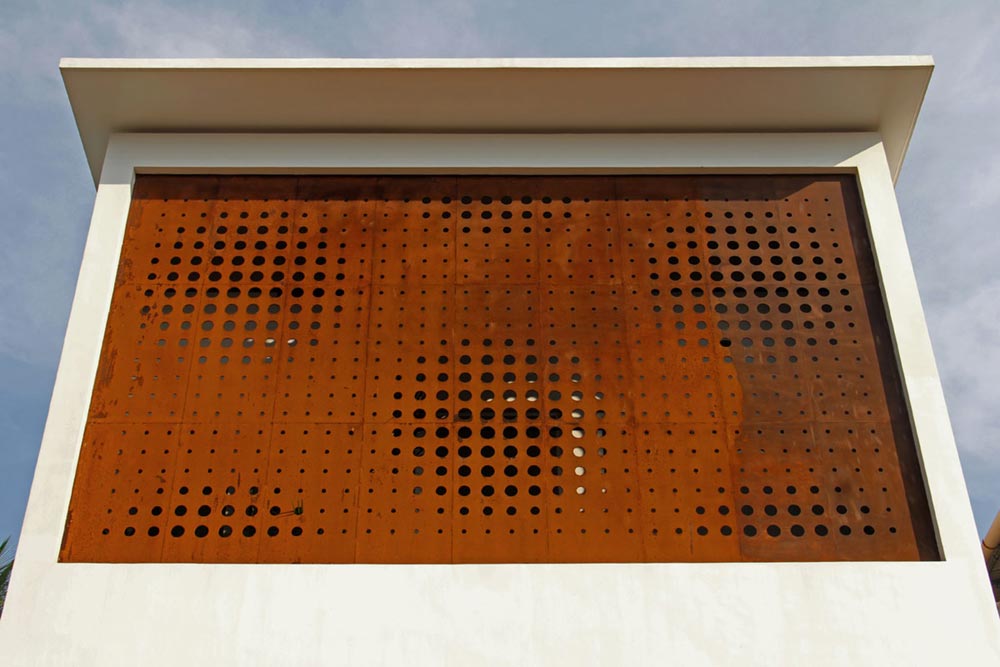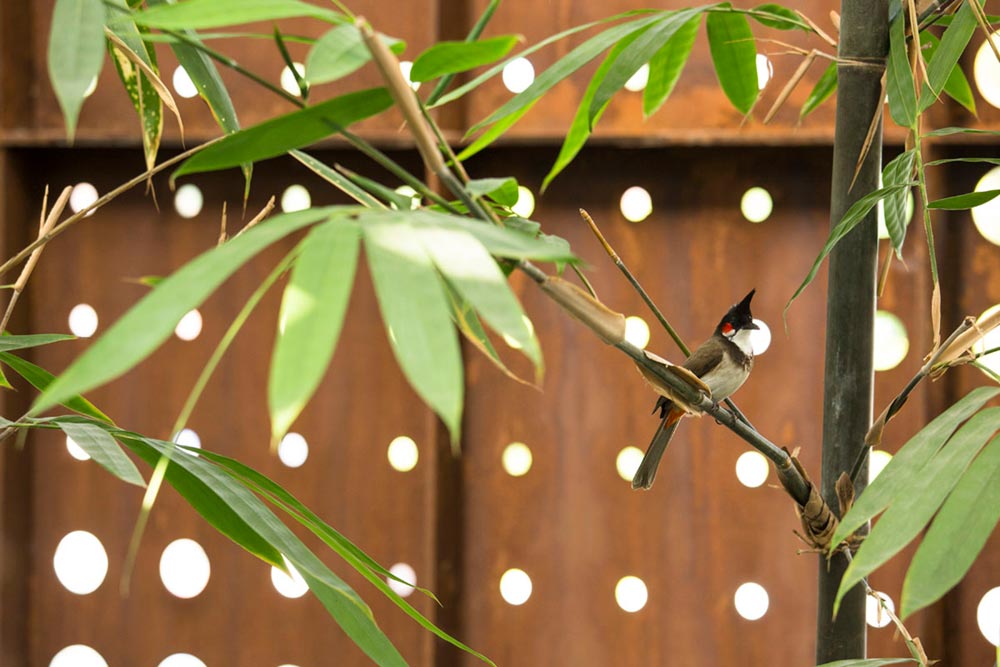 Interior materials are reserved to mostly crisp white walls with the occasional function-specific accent. It's the abundance of thriving vegetation that punctuate the experience in a way few interior designs have pulled off. Everything, including circulation, is filtered through that central courtyard. It is the heart of the home and just happens to be completely open to the air. It is flanked on two sides by the perforated steel panels, and remains comfortable due to design orientation and the fact that the plants themselves act to protect it from the elements.
Lijo.Reny.Architects have created something truly remarkable – a living home that doesn't turn it's back on the climate it inhabits. Rather than close itself in a shell of insulated walls and mechanical perversity, the home embraces its tropical climate and adheres to its challenges. The Breathing Wall Residence is everything progressive, sustainable architecture aims to be.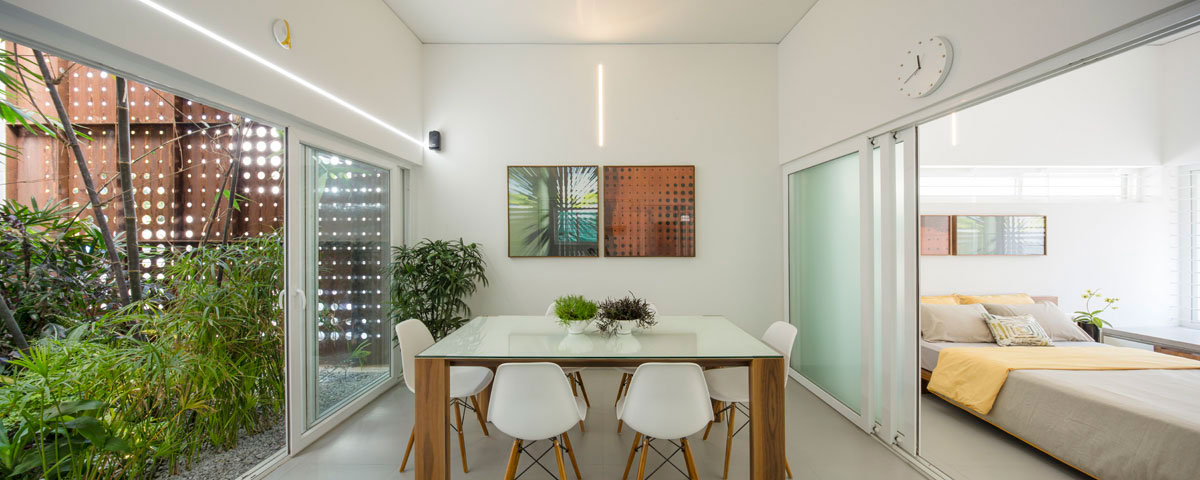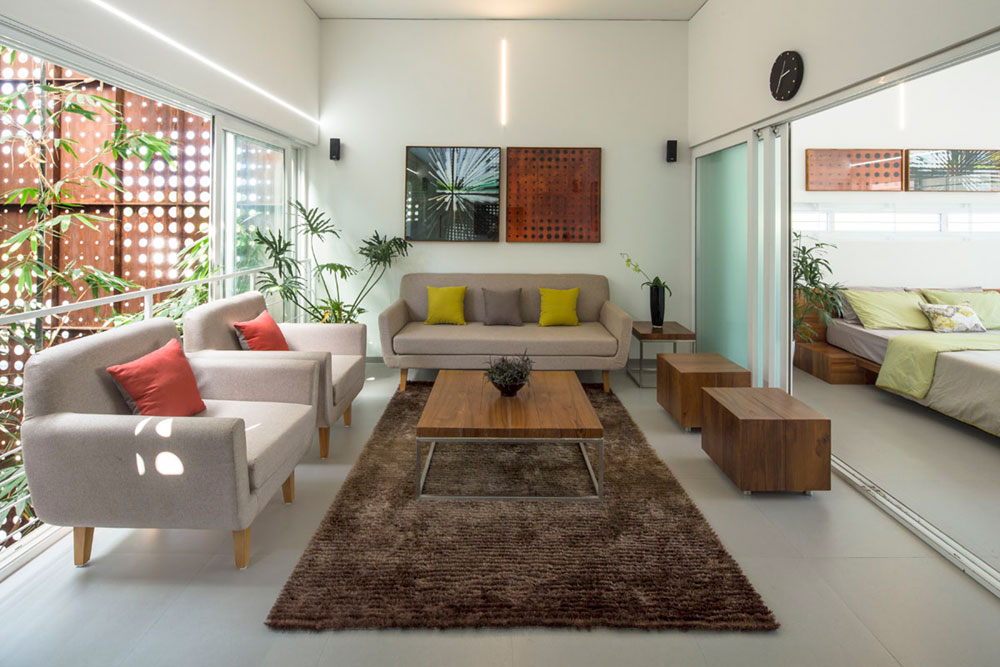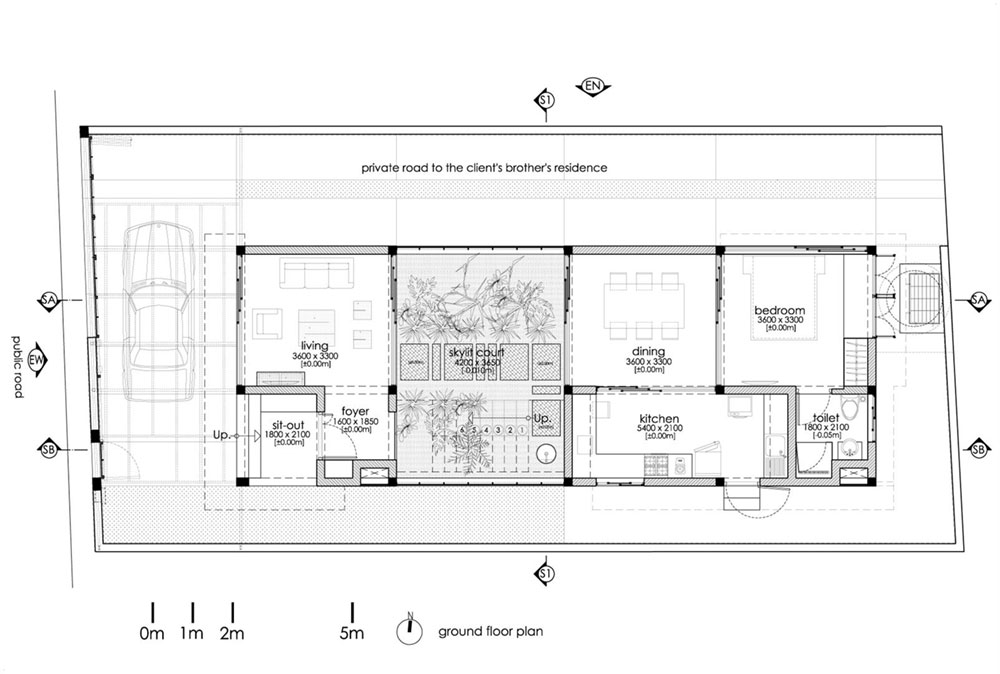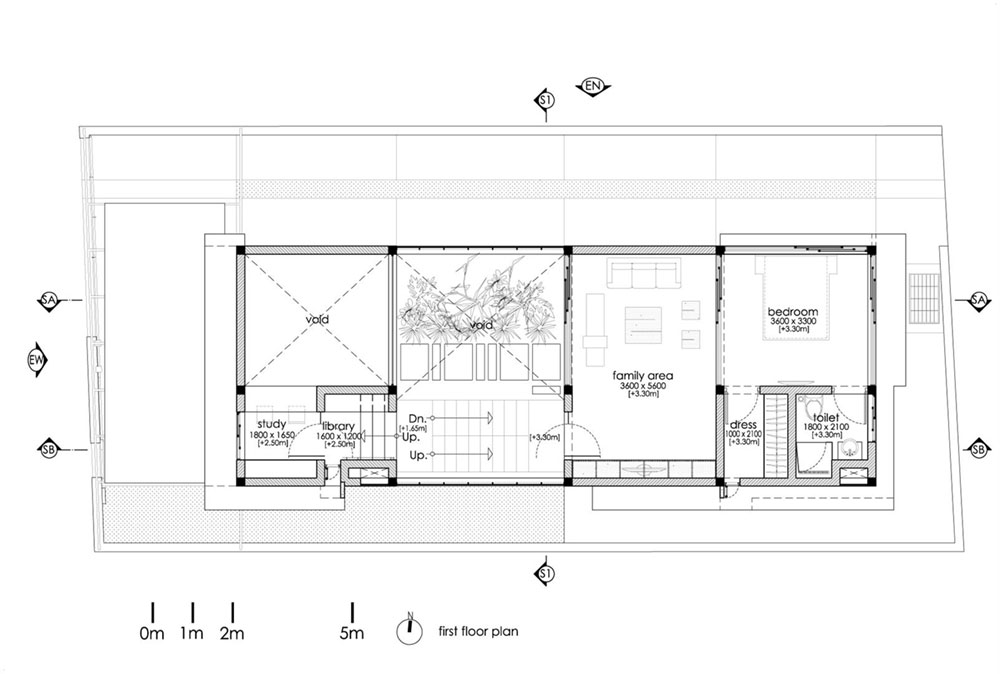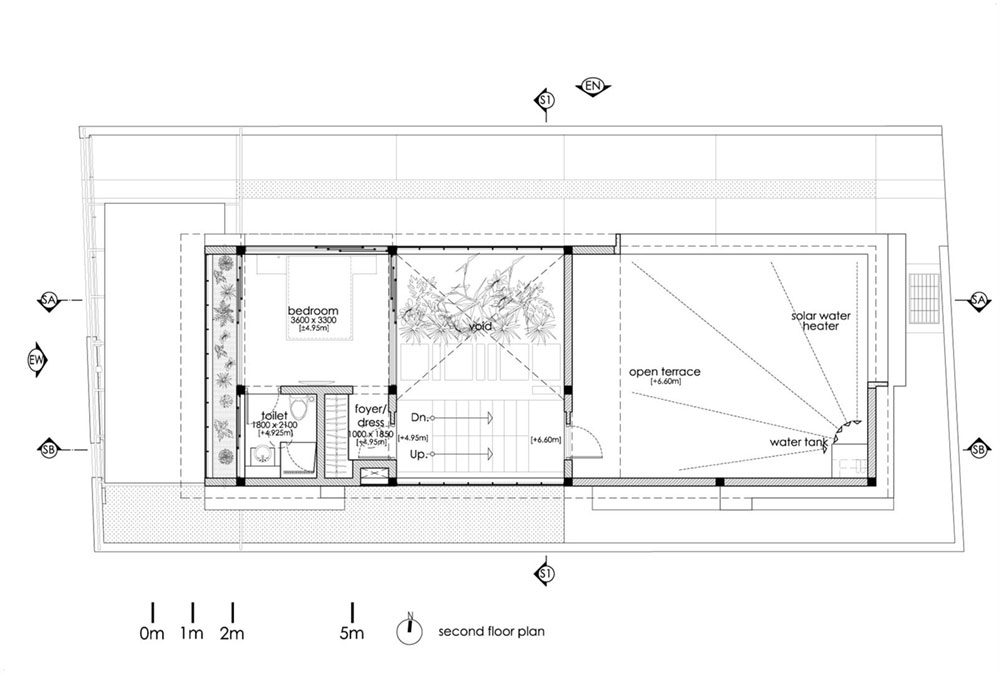 Architects: LIJO.RENY.architects
Photography: Praveen Mohandas, Suneesh Suresh and LRa