Worship spaces represent a very sacred genre of architecture. The designer is tasked with not only creating an aesthetically and acoustically beautiful object, but there must be something about the resulting spaces that is somehow elevated above human cognition. This is no easy task, but one handled with an expert sense of solemn isolation in the Waterside Buddhist Shrine. ARCHSTUDIO designed the structure to exemplify the tenets of Buddhist worship, focusing primarily on the unspoken connection between man and nature.
The structure is situated in Hebei, China along a slow river in the middle of a sprawling forest. At first glance, the Shrine appears to rise directly from the earth, with a series of earthen mounds resting up and over the main interior space. The structures inherent connection to the landscape is immediately apparent as the earth then peels away to reveal sections of glass and board formed concrete.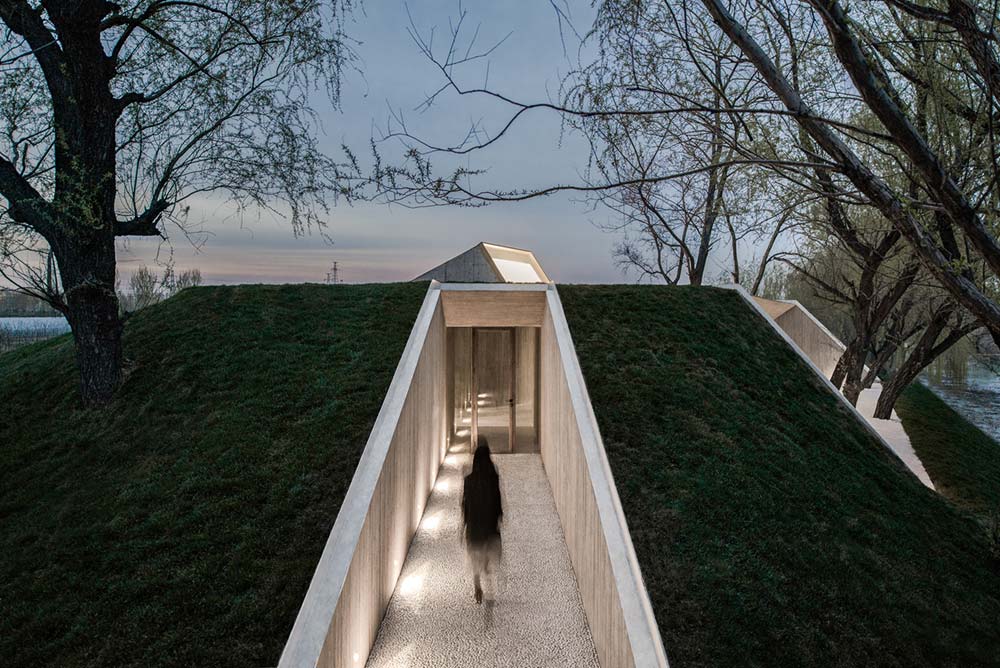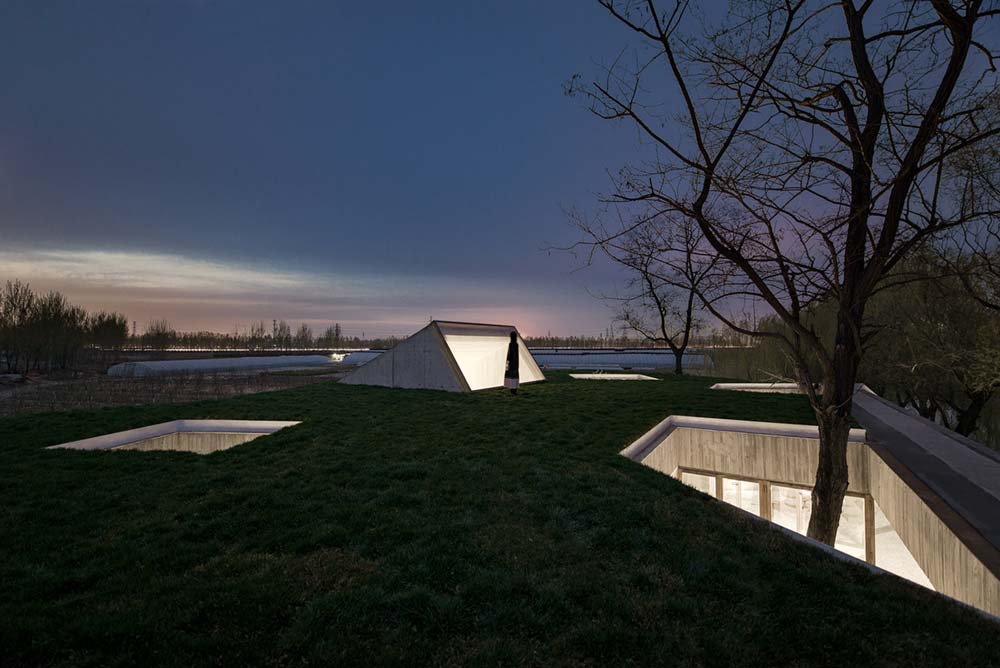 The interior spaces are cold and quiet, providing the perfect backdrop for isolated meditation and self-reflection. At no point is the surrounding landscape far from view as view to the outside are pointed towards spindly trees and manicured river rock. From an architectural material standpoint, the most impressive application are the concrete walls and ceiling, which were formed using skinny pine boards to create a rough textural quality the juxtaposes the smooth concrete of the floor slab.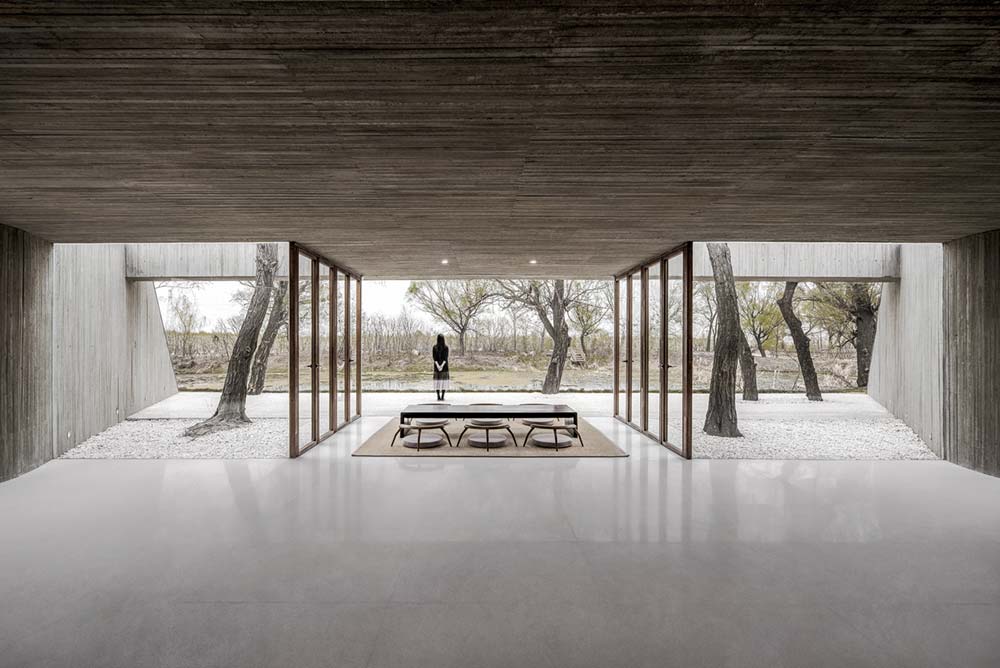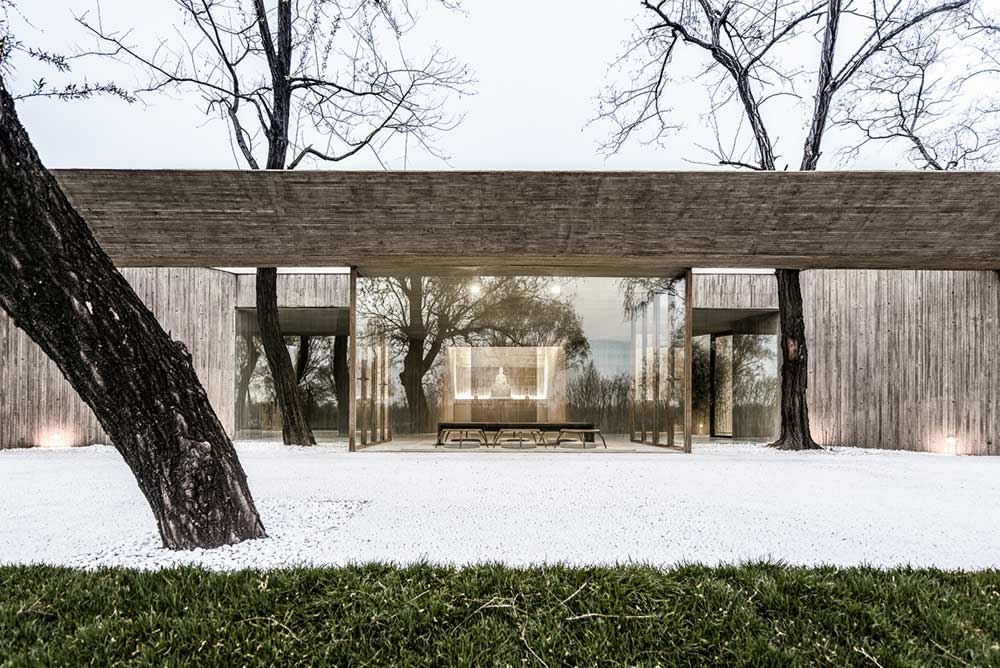 The Shrine is composed of 5 branches which correspond to 5 distinct functions: entrance, meditation room, tea room, living room, and bathroom. These branches are connected by a central open hub, which itself is anchored by unobstructed views to the outside, including a lotus garden and soaking pool. These functional forces define the program, and are punctuated by built-in furniture composed of wood and bamboo. These warm accents provide a perfect contrast to the hardness of the concrete, and establish a symbolic symbiosis the runs along the structural spine of the architectural idea.
ARCHSTUDIO designed a sacred space that lives up to the high bar set by other master works of spiritual architecture. It manages to be all that as well as a successful experiment in form, materiality, and the unspoken connection to natural beauty.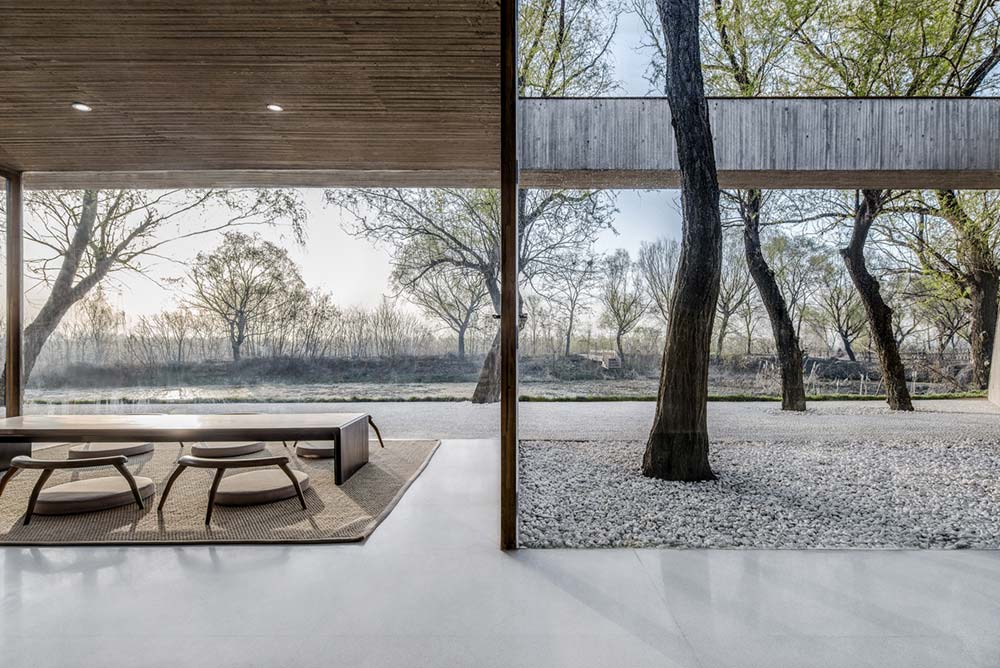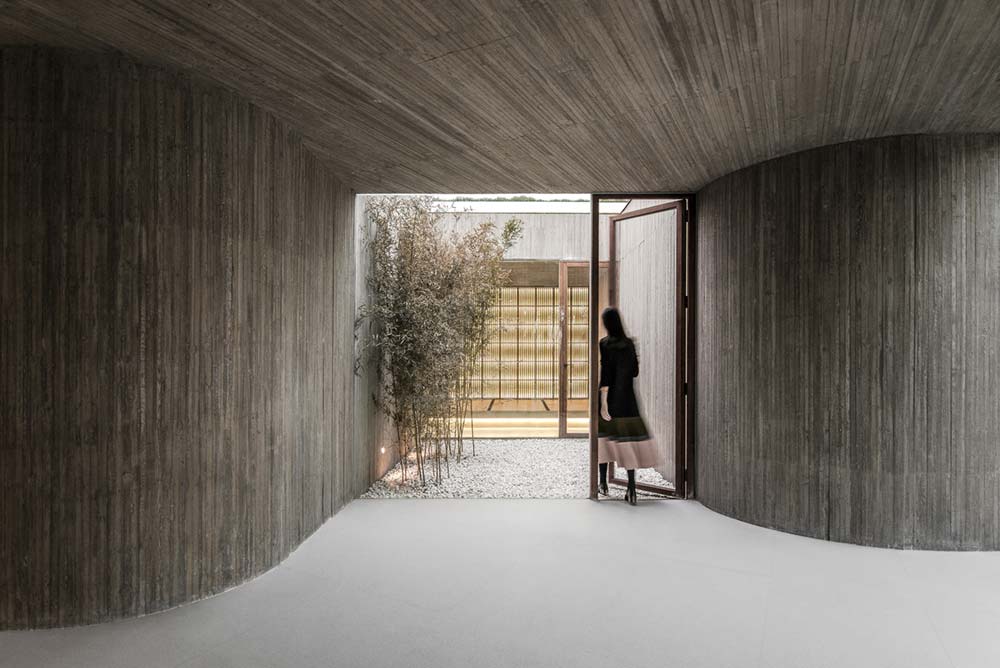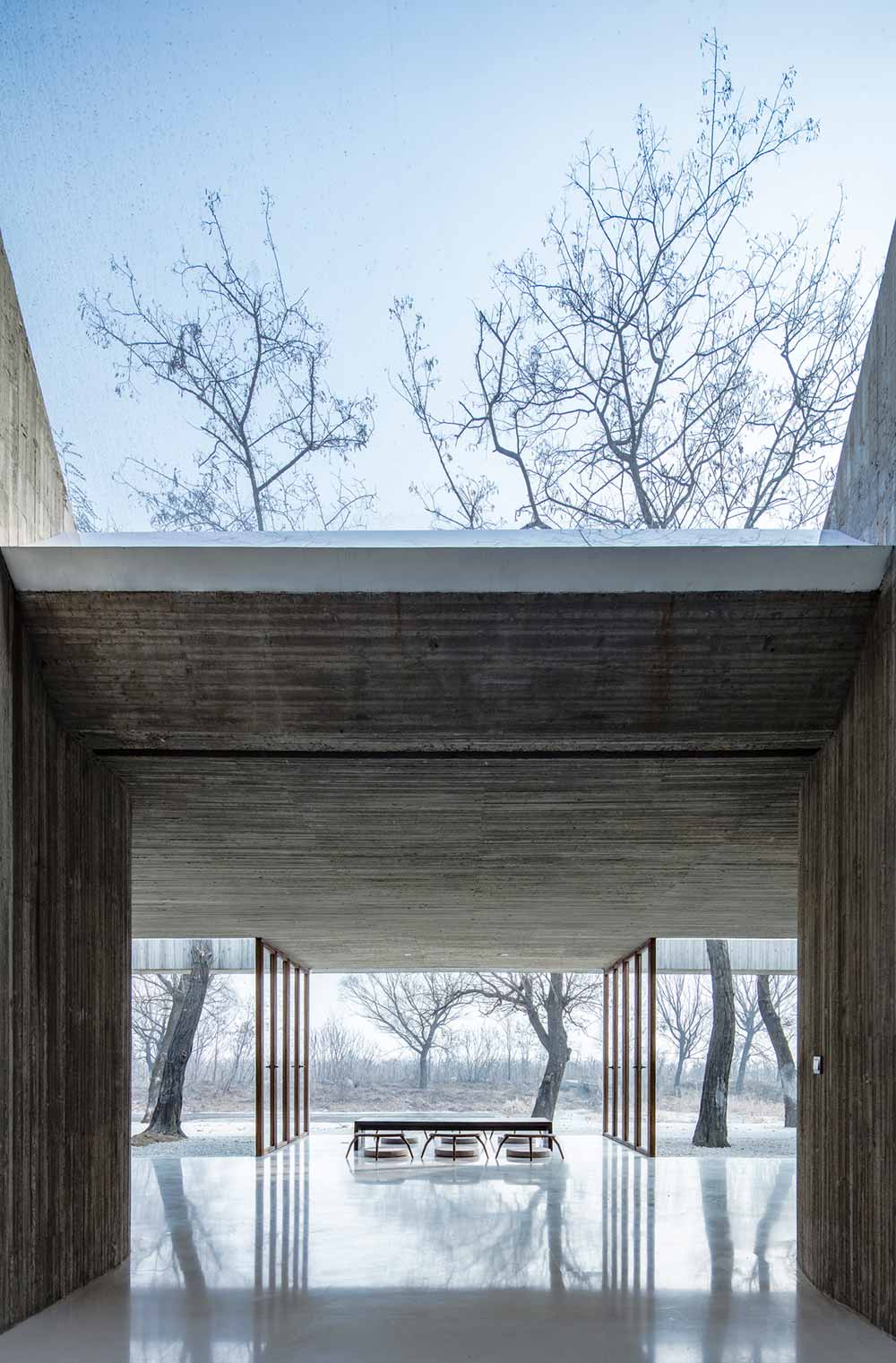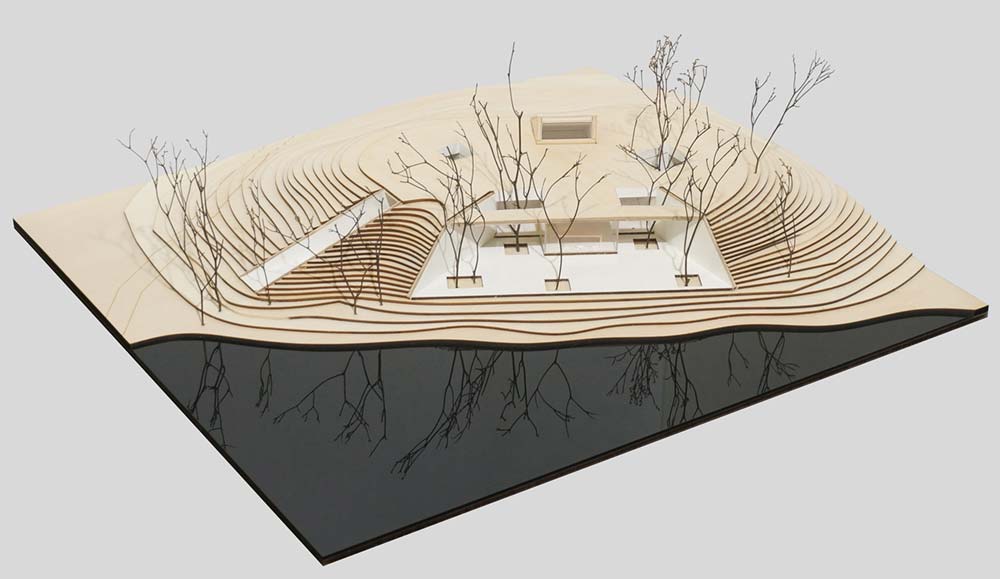 Architects: ARCHSTUDIO
Photography: Wang Ning, Jin Weiqi