Never a move has been so bold as to name a home design after the most fundamentally obvious component of shelter. Yet, the Roofhouse dares to stake its claim to fame on the one thing that defines it over anything else. One look at this home designed by Australian firm BOarch and you'll wonder how it could be called anything else, as its entire conceptual driving force is centralized around a massive triangular shaped shed roof.
However, to disregard the rest of the design based on the prominence of this bold feature would be a disservice to the care that was given to everything else. Yes, the roofline slaps you in the face the moment you see it, but beyond the roof is a beautiful work of residential architecture that carries as many secrets as a Harry Houdini museum.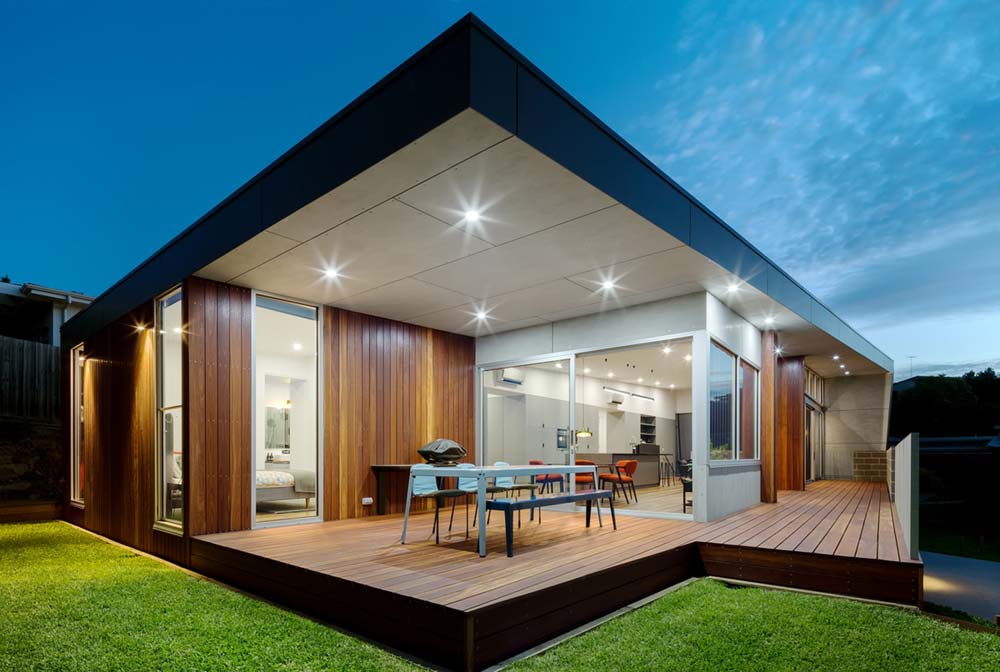 But, let's start with that roof. It juts suddenly from the ground as a thin plane of stainless steel before it abruptly transitions into a thicker, wood clad roofing material via a line that resembles that of a stepped concrete footing. It reaches its highest point before sloping back down at a 90 degree angle, spanning the length of the home before it overhangs an exterior deck on the opposite end. Phew. The Roofhouse, indeed.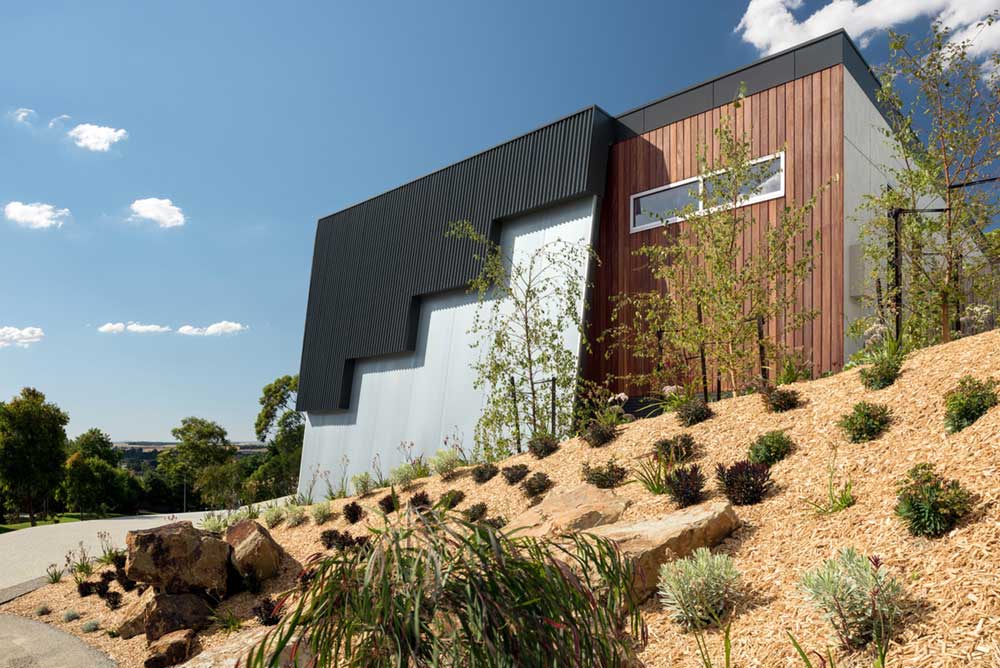 Contained within the roof is a composition of concrete masonry, wood, and glass that seems to operate completely separate from what the roof is doing above. Even as such, the collective works on an architectural level, balancing the obscure with the familiar in a way that gives the front facing facade a bizarre approachability.
The interior presents a much more conventional architectural approach, but one that is just as cared for as its bombastic exterior. Wood floors anchor the experience, which also features mostly white walls with a few accents of ceramic and stone tiles. In a few places, sliding glass doors completely disappear to remove the threshold between the public areas and a second floor deck.
The Roofhouse is more than just a roof. This much is clear. It is a cozy home that happens to feature a roofline you can see from the next county over. At the end of the day, it works. Boarch has taken a single formal gesture and developed it into a stunning, and carefully crafted work of residential architecture.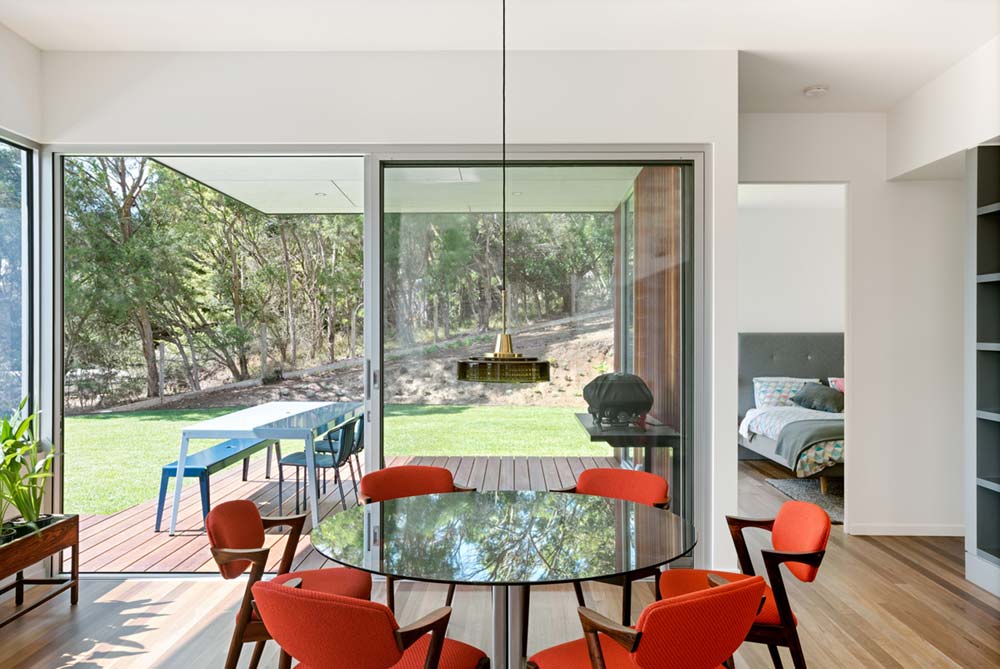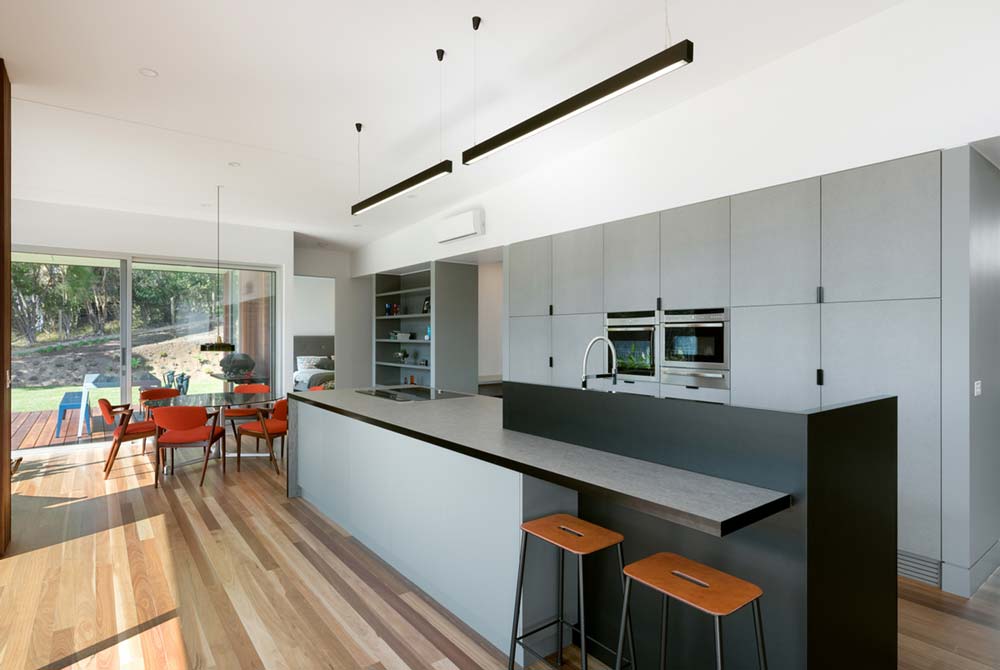 Architects: Christina Bozsan
Photography: Emma Cross