The Nomad family camping tent is more than just a place to sleep. It's a home away from home. It provides plenty of additional space while removing the inner tent divider thus revealing a single large compartment and by using the organizer pouches you can keep track of all your bits and pieces. Its color coded poles makes it easy to set up. The Nomad family camping tent can be used for 2 up to 6 people so it can keep you and your family warm an dry at any weather.
Nomad, a well-known Dutch outdoor brand, is your passport to new places, new adventures, new cultures and new ideas.

Maximal Design, a leading Belgian design agency, believes that good design always connects with people. Maximal Design has created a variety of travel products for Nomad from sleeping mats and sleeping bags to travel bags and backpacks and family camping tents. As they say: "Whether you are on a backpacking trip around the world, setting up camp in the Scottish Highlands, rambling through the jungles of Irian Jaya or trekking on the peaks of Nepal, Nomad's products will perform excellently. So the only thing left for you to do is to fully enjoy your journey."

Nomad also offers great-looking and highly comfortable kids sleeping bags for summer camping or overnight stays with friends. Nomad offers another option for kids sleeping bags as the Nomad travel bed. It can be used as a toddler travel bed and as a kid travel bed. It's lightweight and has a side access, which makes life a lot easier, it's portable and easy to assemble and comes with mosquito nets. You can find it at gtexpectations.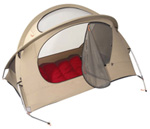 By the way, if you're into family camping tents, kids sleeping bags or just camping gear you might also be interested in:
Hennessy hammock tents
DESEO touring caravan
Selk'Bag sleeping bag
Airstream travel trailer