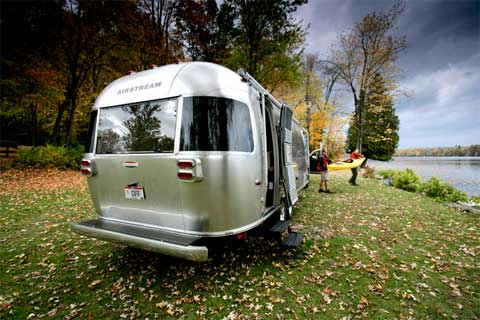 The Airstream travel trailer is definitely the right way to travel in style. From the Airstream Bambi to the Safari and the Classic models – the Airstream travel trailer is a true American icon.
The smooth aluminum clad body of this stylish travel trailer is famous for its streamlined design and lightweight construction. From casual travel with overnight stops to full-time living on the go, Airstream cannot be equaled.

The timeless design and style of the Airstreamer travel trailer is, by all means, its trade mark. Luxurious amenities provide quality and comfort for the world's most adventurous travelers. The Airstream ingenious space-saving features and storage solutions lets you focus on the romance of the road and the adventure of travel. Just get up and go, at a moment's notice.
It has been a life long dream of mine to own one of these babies. To know that I can seek out quiet hideaways beside mountain streams and crystal clear lakes, enjoy nature and still get to travel in style with extremely comfortable amenities. What a great way to relax and enjoy your vacation if not your full-time day-to-day living. I won't have any problem calling this Airstream travel trailer – my home.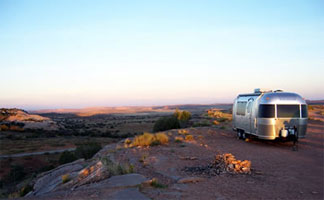 The picture above is by Mark Wojciechowski: Sunrise on a Mesa – Near Moab, UT and Canyonlands National Park. Just look at it, can it get any better than this.
By the way, if you're into camping gear or travel trailers you might also be interested in:
Hennessy hammock tents
Nomad family camping tents and kids sleeping bags
DESEO touring caravan
Selk'Bag sleeping bag