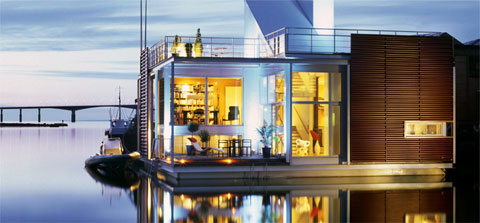 Floating homes are great. The idea of waking up and taking a morning swim or just sitting on your floating home deck sipping a glass of wine while the sun sets on the water.
Sounds wonderful, right?
Check out Näckros Villa, a new concept within marine living. A floating home with modern design characteristics and carefully considered construction. A vision of waterside living without compromising the demands expected from a modern villa.
Swedish Modern Marine Homes situated the villa at Varvsholmen in Kalmar. This luxurious floating home is a habited show home which, since opening, has undergone a long series of tests to evaluate materials, technical solutions and functionality.
This floating home open-plan design lets in light and creates space. The ground floor consists of a hall, toilet, workroom, dining room and kitchen opening into the living area, whose large panorama windows focus the whole house towards the water. On the lower floor of the Näckros Villa the bedroom and bathroom are situated (with windows, of course) only half a meter above the water. This is what a floating home is all about.
"Our show home represents freedom of expression and variation both in terms of design and use of space. Within its walls, the opportunity to try your own ideas is in your hands. Together with our architects you can create a home that exactly meets your wishes and demands."